Welcome to What's New Wednesday, where we profile local startups—and the entrepreneurs behind them. This week, we meet Margaret Broderick and Mike Lehane, who opened Indy NUT House in May.
Type of business: Shop selling "nice, useable things" for home, building and lifestyle
Address: 2405 N. College Ave.
Phone: 447-9415
E-mail: info@indynuthouse.com
Website: www.indynuthouse.com
Founded: February 2011
Owners: Margaret Broderick and Mike Lehane
Owners' background: Friends and business partners Mike Lehane and Margaret Broderick met in late 2009 while both were hip-deep in home rehab projects, bonding over the challenges that come with breathing new life into old buildings.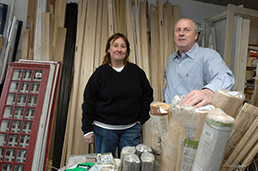 Margaret Broderick and Mike Lehane opened their shop in May. (IBJ Photo/Perry Reichanadter)
Lehane, 48, has been working on houses for 30 years, working for himself and as a subcontractor.
Broderick, 50, studied communications and sociology at Indiana University and earned an MBA from Indiana Wesleyan University. She worked a variety of corporate jobs—mostly in marketing, management and operations—before getting into real estate.
Both live on New Jersey Street—Lehane is single and Broderick has a partner of 18 years—not far from the shop.
Why started business: As they worked on their own properties, the partners accumulated a lot of "stuff"—everything from reclaimed doors, windows and woodwork to brand-new deadbolts, blinds and furniture.
It didn't take them long to come up with the idea of selling what they didn't need to others working on their homes or rental properties. They chose the location to be in the heart of what they think is an up-and-coming area for home rehabbers.
The shop is small and packed full of products, but Broderick is quick to help customers navigate the organized chaos.
"I tell people to come in with an open mind and a keen eye," she said. And measurements wouldn't hurt, either.
Competitive advantage: Broderick said Indy NUT House is a "bridge" between not-for-profit resale shops, which rely on donations, and major retailers, which typically sell new merchandise at higher prices.
She and Lehane visit auctions and estate sales every week looking for "historically used" items, and they have developed relationships with closeout specialists and liquidators to get good prices on new products.
They also take suggestions from customers. The store's large selection of window treatments, for example, wasn't part of their original plan.
 "The demand was there and we responded," Broderick said. "We adapted to the needs of the customer very quickly."
An inventory list also is available online.
Startup cost: The partners declined to disclose financial details, saying only that inventory was the largest expense.
Funding source: Personal savings
Potential problem and contingency plan: Broderick and Lehane thought they had a winning concept, but they didn't know how their target customers would respond. So they kept expenses low and their business plan flexible.
"We have opportunities being presented daily," Broderick said. "They key is our ability to respond."
First-year goal: Given that flexibility, she said their goals change from week to week. For now, they're happy as long as customers keep coming in and inventory keeps moving out.
"We are getting good at using every inch of space here," Broderick said.
Please enable JavaScript to view this content.