Welcome to What's New Wednesday, a new feature profiling local startups—and the entrepreneurs behind them. This week, we meet Naptown Roller Girls Amber Jones and Kate Bothwell, who opened Vital Skates in October.
Type of business: full-service skate shop with focus on roller derby
Address: 1022 Virginia Ave.
Phone: 638-5920
E-mail: info@vitalskates.com
Website: vitalskates.com
Founded: October 2011
Owners: Kate Bothwell and Amber Jones
Owners' background: Jones, 36, works full time as a stage manager and founded Indianapolis' Naptown Roller Girls roller derby league in 2006. Known in the rink as "Strawberry Jam," she isn't skating now after three surgeries on her right leg. Jones has the entrepreneurial instinct, also starting a "green" cleaning business.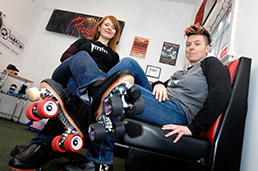 Amber Jones, left, and Kate Bothwell hope their roller derby experience keeps Vital Skates rolling. (IBJ Photo/Perry Reichanadter)
Bothwell, 34, had just left a corporate information technology position this summer when she and Jones began talking about opening a skate shop to serve the growing roller-derby community—where she goes by "Katya Lookin'." She had the time and the passion for the enterprise, so they set about making it reality.
"It all came together over lunch one day," Jones said.
"We went from idea to LLC in under 30 days," Bothwell added.
Why started business: The partners thought Indianapolis needed a full-service shop to accommodate the 200-plus active skaters in four local roller-derby leagues: Naptown Roller Girls, Circle City Derby Girls, Race City Rebels and Indianapolis Junior Derby.
"Our only option was to order online," Bothwell said.
But they said that's not ideal, since skates should be fitted to the individual like any other performance gear.
The closest bricks-and-mortar competitor is in Chicago, so the women hope the Indianapolis outlet draws customers from throughout the state. Derby teams are established in a number of other cities from Bloomington to Richmond and Terre Haute to Fort Wayne.
"This is a major opportunity," Bothwell said.
Competitive advantage: The partners believe their own roller-derby experience gives them an edge. They know the demands the sport puts on equipment—and how to keep it rolling.
That personal touch sets Vital Skates apart from online competitors, they said.
"Because you're laying out a significant amount of cash, you don't want to get this wrong," Bothwell said of buying skates, which can cost $700 or more. "We can work with customers to get exactly what they need."
Startup cost: $17,500
Funding source: personal savings and an outside investor
Potential problem and contingency plan: Because roller derby is a specialized sport, Vital Skates may not have the broad appeal of other sporting goods retailers.
"Nobody wakes up and says, 'I think I'll start roller skating to work,'" Bothwell said.
But skaters aren't the only potential customer. The shop also would like to a haven for derby aficionados, offering tickets to bouts and assorted fan gear—including the personalized T-shirts that sold like hotcakes at a recent match.
First-year goal: Vital Skates is still growing into its rented Fountain Square storefront, selling a selection of skates, wheels, pads and other necessities like "AntiStank," a locally made spray that kills bacteria to keep pads smells good.
By next fall, the partners hope to have added more product lines and expand its retail operation into a back room they now use to showcase derby photographs and another vendor's bout attire.
Their ultimate goal: To be the Midwest's destination for derby supplies.
"It's just so needed," Jones said.
 
Please enable JavaScript to view this content.