Welcome to What's New Wednesday, a new feature profiling local startups—and the entrepreneurs behind them. This week, we meet Vanessa Grider, who opened Violet Vintage this fall.
Type of business: Vintage rental supplies for weddings, parties and photo shoots  
Address: 8025 Castleway Drive
Phone: 520-2929
E-mail: Vanessa@violetvintage.com
Website: violetvintage.com
Founded:  August 2011
Owner: Vanessa Grider
Owner's background: Grider, 30, has a bachelor's degree in psychology from the University of Indianapolis. After graduating, she spent a year with Americorps in Seattle before returning to Indianapolis for get her master's in counseling from IUPUI. She worked at Big Brothers and Big Sisters of Central Indiana for three years before making the "exciting and terrifying" leap to business ownership.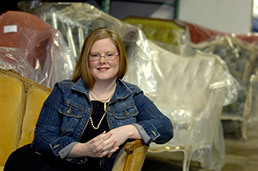 Vanessa Grider offers party rentals with a twist. (IBJ Photo/Perry Reichanadter)
Why started business: A planner by nature, Grider was wrapped up in wedding preparations in 2009 when she realized how difficult it was to find unusual—and affordable—décor for the big day.
She didn't want to buy hundreds of Chinese-made vases that eventually would end up in a garage sale, for example, and the rental companies she checked all offered very similar stock.
"The more I looked, the more I realized there was a need for something else. That was the biggest pull," she said. "I didn't always want to start my own business."
But once she got the itch, she was determined to scratch it. She and her fiancé had a simple ceremony and spent their savings on the business instead. If it works, great. If not, Grider has her education to fall back on.
"What better time to do it?" she asked.
Competitive advantage: Don't expect to find the ubiquitous fishbowl centerpieces at Violet Vintage. As the name implies, Grider's company specializes in time-tested classics: real china, silver serving trays, crystal decanters.
The 1,200-square-foot Castleton warehouse is more utilitarian than decorative, but Grider is planning to set up a display area to help potential clients envision the possibilities of props like a white damask sofa or metal-and-wood trunk.
And the blue Ball jars she struggled to find for her own reception tables? She has more than 600 available to rent.
"This is a unique niche," she said.
Grider also is proud that Violet Vintage is finding ways to use—and re-use—products that otherwise might be discarded or forgotten.
Startup cost: $30,000
Funding source: personal savings
Potential problem and contingency plan: "Not everyone is going to want this," Grider admitted. But that's the idea behind offering something unusual: Rather than serve the masses, she wants to provide alternatives for folks like her who want to be different.   
She has started meeting with event planners and photographers—and several brides-to-be—and is optimistic about the prospects.
"So far the reception has been warm," Grider said.
Still, she knows it will take time to get revenue flowing. Since most couples spend six to 12 months planning their wedding, she doesn't expect the firm's first event until April.
First-year goal: Grider would be happy to average two events a month. And by mid-year, she'd like to have bookings in place for the first half of 2013.
"We'll see where it goes," she said.
 
Please enable JavaScript to view this content.