Welcome to What's New Wednesday, where we profile local startups—and the entrepreneurs behind them. This week we meet James Burnes, who launched PatentStatus LLC in January.
Type of business: Virtual patent-marking service
Location: Indianapolis
Phone: (888) 666-1512
E-mail: getstarted@patstatus.com
Website: patstatus.com
Founded: January 2012
Owner: James W. Burnes
Owner's background: Burnes, 33, is a sixth-generation Hoosier with a passion for product development. A native of Shelby County, he studied mechanical engineering at Rose-Hulman Institute of Technology before joining a New York forensic science practice as director of business development and technology.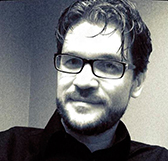 Burnes
When he returned to Indiana in 2002, Burnes joined Gannett Co. Inc. hoping to figure out how to get newspapers' attention when writing press releases. During his five years there, he helped launch young-adult-focused INtakeWeekly.com and niche websites IndyMom.com and IndyPaws.com.
Jobs at WISH-TV Channel 8 owner Lin Television Corp. and Indianapolis marketing firm MediaSauce followed before he founded product-development consultancy Project Brilliant in 2010.
The same year, he partnered with locally based venture firm DeveloperTown to launch app developer Mobiltopia. The startup ceased operations at the end of December.
Why started business: The America Invents Act, which President Obama signed in September, for the first time allows patent holders to use a web address to mark protected products. Traditionally, individual patent numbers have been imprinted on the products themselves.
Given his technology background, Burnes recognized the opportunity to help companies make that switch—and manage their patent portfolio online.
"I researched it for a couple weeks and there was not a whole lot out there—which is a good thing," he said. "No competition."
He fleshed out the idea by making the rounds of local intellectual property attorneys, pitching his prototype and soliciting their feedback.
After a handful of meetings, the suggestions for how to improve the product tapered off and the lawyers starting asking about pricing and demos for their clients.
"It was a very positive experience," Burnes said.
Competitive advantage: Burnes has found only a couple other such services nationally, but says his has the edge in pricing—four tiers, based on the number of patents and products a client has—and technology.
Working with a development team from local software firm WDDinc, Burnes aimed high, building a scalable system designed to handle millions of records from Day 1. Security also was an important factor, given the potential for legal action involving clients' patents—and marking.
"We needed software that could stand up in court," Burnes said.
The user interface also was another consideration. He wanted a program that was easy for companies to use, regardless of their technical expertise.
"It's as easy to use as e-mail," he said.
And although PatentStatus uses cloud-computing technology to store clients' data, the patent-marking registry carries the patent holders' URL, allowing them to retain control.
"This is the most cost-effective and efficient tool for implementing a virtual marking strategy, period," Burnes said.
Startup cost: Burnes declined to disclose specifics, citing competitive concerns.
Funding source: Personal savings
Potential problem and contingency plan: The America Invents Act didn't include specific guidelines for virtual marking, and it's possible that some patent holders won't rush to embrace the new option.
Even so, Burnes is confident his product will gain traction among forward-thinking companies—including some who may use both patent-protection strategies, at least initially.
Although corporations will be PatentStatus' clients, Burnes also is reaching out to patents attorneys, who are a crucial "gateway" for sales.
Good to know: Earlier this month, Burnes won a competition sponsored by local economic development agency DevelopIndy and national alliance Startup America Partnership. His prize: A chance to watch Super Bowl XLVI in a suite with Startup America CEO Scott Case.
Burnes can't say enough about the benefits of the "whirlwind" weekend, which also included private conversations with Under Armour CEO Kevin Plank and Case, who also was Priceline.com's founding chief technology officer.
The experience gave Burnes the chance to get feedback on his startup from Case—the most valuable prize, he said—and access to hundreds of decision makers in town for the big game. Among his scores: a demonstration this week for Rolls-Royce Corp.'s corporate counsel.
Burnes paid startup expenses himself and had not intended to seek outside funding—until he talked to Case, who asked him to consider what the company would look like in three years with and without investors.
In the next three years, he expects 30 percent to 50 percent of Fortune 5000 companies to be using virtual marking. And PatentStatus should be in a good position to become a major player in the marketplace, given its head start.
"We will very likely be seeking funding in the near future," Burnes said. "If we want to go from a walk to a sprint, we need to be ready to sprint a marathon. The next couple years are going to be fun."
____
Read more about Burnes' Super Bowl weekend here.
Please enable JavaScript to view this content.