Welcome to What's New Wednesday, where we profile local startups—and the entrepreneurs behind them. This week, meet Sherri Campbell, who is ramping up Charlie's Chillers LLC after winning last month's Hottest Kitchen Entrepreneur Challenge.
Product: gourmet frozen dog treats
Location: Indianapolis
Phone: 374-7756
E-mail: sherrilyncamp@yahoo.com
Website: www.facebook.com/charlieschillers
Founded: June 2012
Owner: Sherri Campbell
Owner's background: Campbell, 53, is a middle school science teacher who enjoys cooking almost as much as she loves dogs. A registered veterinary nurse, she also owns Northside Pet Services and shares her northeast-side home with three dogs—terrier mix Charlie and Australian Labradoodles Marley and Lilly—and a cat, Skim. Oh, and one of her two children still lives at home, too.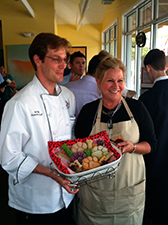 Sherri Campbell won the Hottest Kitchen Entrepreneur Challenge with her Charlie's Chillers frozen dog treats. (Photo courtesy of Carrie Slack)
A self-proclaimed "foodie," she has been experimenting in the kitchen for years. Her four-legged family started benefiting when dozens of animals died across the country after eating toxic pet food.
"As a consumer, I started getting nervous," Campbell said.
Since she likes to leave treats for clients at the end of a pet-sitting or dog-walking visit, Campbell started making her own.
Why started business: She ventured into frozen treat territory because her dogs love chewing ice cubes, which Campbell knows isn't good for their teeth. Her solution: premium popsicles (sans stick) shaped like paws and bones.
Available in five flavors—pumpkin, blueberry, peanut butter banana, chicken and Sloppy Joe—Charlie's Chillers are made with human-grade ingredients, organic whenever possible.
"We love our pets like family," Campbell said. "They deserve the same high-quality food we do."
Campbell was refining her recipes and contemplating the new business when she came across the Hottest Kitchen Entrepreneur Challenge, sponsored by food-business incubator Indy's Kitchen and Reliable Water Services.
She was one of about 60 aspiring entrepreneurs who entered the contest. The three finalists had a cook-off on June 19 at Indy's Kitchen, which rents space in its Central Avenue facility to food businesses of all kinds. The judging included taste-testing (by humans), which made Campbell sure she'd be the underdog.
"I was happily surprised [to win], let's put it that way," she said with a grin.
Competitive advantage: Most of the mass-produced doggy ice cream Campbell is familiar with is sold in cups-—not exactly easy for canine consumers to handle, given their lack of opposable thumbs. Her product will be packaged in food-grade cellophane.  
The high-quality ingredients also set Charlie's Chillers apart, she said.
Startup costs: Overhead so far has been fairly low, since Campbell prepares products in her home kitchen and has transformed her dining room into a packaging operation.
But costs are climbing along with her ambitions. Although food-safety regulations aren't quite as extensive as they would be if she was selling food intended for humans, she still needs to do things like have her treats analyzed by a chemist.
She's still figuring out expenses—and what that will mean when it comes time to price her products.
Funding source: Campbell's contest prize was $2,500 in cash, plus $500 of professional cookware and $500 in consulting services. She also has lined up an angel investor who is offering both financial support and business advice.
Potential problem and contingency plan: She hasn't set prices yet, but Campbell is relatively certain her treats will be more expensive than mass-produced products—something she knows will make it difficult to win over some customers.
Even so, she's confident the quality of the product will appeal to the kinds of pet "parents" who prefer premium goods.
"It's not going to be the same price as a Milk Bone," she said.
First-year goal: Her business plan calls for a three-phase rollout, starting with getting Charlie's Chillers into local specialty stores, dog-friendly restaurants and even farmers' markets.
Internet sales are next, and eventually Campbell wants to open a dog café—and possibly franchise the idea.
And as production ramps up, Campbell expects she'll have to relocate the business.
"I'm not sure how long I can operate out of a dining room," she said.
The clock is ticking. She'll be back in her Washington Township classroom in a few weeks. Campbell is eligible for early retirement in 2015, but her goal is to devote herself full-time to her pet businesses as soon as possible.
Please enable JavaScript to view this content.