For a company committed to slow-but-steady growth, locally based Hoosier Momma has built some enviable momentum.
The Bloody Mary mix that got the firm started in 2010 now is just one of several products available at more than 900 locations in seven Midwestern states, including retail chains Wal-Mart, Meijer and Kroger.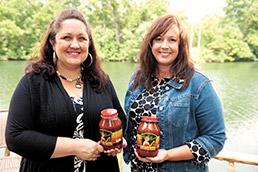 Erin Edds, left, and KC Cranfill combined their culinary and business expertise to drive Hoosier Momma's growth. (IBJ file photo)
Sponsorship deals with Indianapolis Motor Speedway, Ed Carpenter Racing and the Indianapolis Colts—the latter a new agreement announced this month—have raised the company's public profile, boosting sales along with its owners' ambitions.
Co-founder Erin Edds isn't surprised at the firm's progress, but she didn't expect to come so far so fast.
"Everything's going at breakneck speed," she said.
And she couldn't be happier about it.
Edds was running another business making locally sourced foods for farmer's markets in January 2010 when she got a call from an event planner looking for Indiana products to include in Super Bowl-themed gift baskets. (The Colts were preparing to play in Super Bowl XLIV at the time.) She used local tomatoes to come up with a vegan, gluten-free mixer that quickly developed a cult following.
Six months later, she joined forces with KC Cranfill and Casey "Cat" Hill—who provided capital and business experience—to form Hoosier Momma LLC. Last summer, the company landed a distribution deal with industry behemoth Southern Wine and Spirits. It has been a whirlwind ever since. (See our 2011 story here.)
"If we don't have 20 things going on at once, it's almost like we don't have anything going on," Cranfill said.
Indeed, Hoosier Momma was a bar standard at several high-profile events during Super Bowl XLVI in Indianapolis—company officials estimate revelers consumed 18,400 tomato-based cocktails during the festivities—and its signature product was the "official Bloody Mary mix" of 2012 Kentucky Derby Festival.
It also was a hit at IMS during race month. Cranfill said officials reported that vodka sales at the track have never been higher than they were this year, with the Hoosier Momma original and spicy mixes added to the lineup.
Cranfill said the IMS and Colts sponsorship deals help introduce Hoosier Momma to new audiences. And it makes sense to start close to home.
"We wanted to be true to our roots," she said. "We're excited about the partnerships and the direction we're going."
Hoosier Momma certainly is moving forward. Its mixes will be sold in Wal-Mart stores in Indiana and Kentucky and Meijer stores in Indiana, Ohio, Michigan and Kentucky. And the company in May rolled out two new products: Key Lime Margarita Maker and Strawberry Rhubarb Cocktail Maker.
The partners declined to share financial details, but Cranfill said 2012 revenue already has eclipsed last year's results.
Despite the company's quicker-than-expected success, the partners said they're in no hurry to add flavors or markets.
"Now it's time to hold on tight and see what happens," Edds said. "We're more interested in slow, sustained growth."
"We're a small company with big aspirations," Cranfill agreed. "Nothing would make me happier than to see our product from coast to coast. … But if we can't support that, it not a good business decision for us. We'll eventually get there."
 
Please enable JavaScript to view this content.