It has been a whirlwind summer for Derek Pacqué and his Indianapolis-based startup CoatChex.
Pacqué and his team have been fine-tuning the ticketless coat-check system he thought up while a bar-hopping student at Indiana University's Kelley School of Business. Now they're gearing up for a Friday launch party that coincides with Pacqué's appearance on the ABC television show "Shark Tank," where he pitched his idea to potential investors including fellow Kelley alum Mark Cuban, a serial entrepreneur and owner of the Dallas Mavericks basketball team.
The so-called sharks' reaction to Pacqué's presentation is under wraps until the show airs at 8 p.m. Friday, but he said his segment—which appears at the beginning of the episode—"should be really exciting."
"There's a reason they put us first," he said.
Pacqué, 23, graduated in 2011 with a bachelor's degree in management and entrepreneurship. It was more than a milestone for him. IU's entrepreneurship program includes a high-stakes capstone course—dubbed the Spine Sweat—that requires seniors to prepare and pitch a business plan to a group of entrepreneurs, angel investors and venture capitalists. That panel decides who passes—and in turn who graduates.
IBJ wrote about CoatChex in May, as Pacqué was preparing to ramp up production of his iPad-based system after identifying hundreds of potential clients at the Nightclub and Bar Convention and Trade Show in Las Vegas.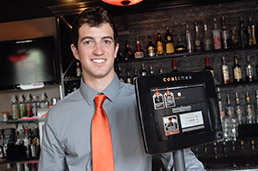 Derek Pacqué and his buddies started checking coats as a money-making gig in college. After learning the hard way using paper receipts, Pacqué developed an iPad-based system. (IBJ file photo)
Since then, he has broadened the business model to include two other channels he thinks are even more promising.
In addition to selling its system to venues, CoatChex is offering to provide temporary coat-checking services for special events and also is marketing its equipment to entrepreneurs who want to run their own coat-check operations.
"That's the business we're looking to create," Pacqué said. "That kind of mobile service really isn't out there now."
With the product design finalized and production complete, CoatChex is ready to make a public splash. Now the rest of us just have to wait and see whether the "Shark Tank" investors took the bait.
Please enable JavaScript to view this content.