Green BEAN Delivery's roots may be in central Indiana, but the homegrown firm also is planting itself in Cincinnati—literally.
The Indianapolis-based company, which delivers organic produce and natural groceries, is leasing a portion of the Cincinnati Zoo's 528-acre EcOhio property and already has harvested the first crop of winter squash grown there. Cabbage should be out of the field in the next few weeks.
Founded in 2007 as Farm Fresh Delivery LLC, Green BEAN launched its 60-acre Feel Good Farm last year in Sheridan, north of Indianapolis. This summer, it added the 50-acre EcOhio Farm in suburban Cincinnati.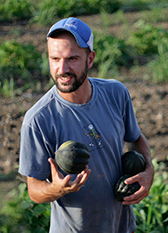 Green BEAN Delivery co-founder Matt Ewer is growing the firm. (Photo courtesy of Green BEAN Delivery)
Co-founders Matt Ewer and Elizabeth Blessing always intended to run a farming operation, but the couple decided to establish the delivery service first.
"We set it up backwards," Ewer said. "We wanted to make sure the distribution mechanism was set before we started producing."
Mission accomplished. Green BEAN—for Biodynamic, Education, Agriculture, Nutrition—has 165 employees and annual revenue exceeding $10 million, Ewer said.
Customers sign up to receive deliveries in Green BEAN's signature produce bins (green, naturally) every week or two. The minimum order is $35. Ewer credits the firm's success to a growing interest in fresh, healthy food.
"There is a tremendous demand for local and sustainable food," particularly fruits and vegetables, he said. "We're looking to fill that gap."
The delivery service started in Indianapolis and now also is available in Fort Wayne, Muncie, Cincinnati, Columbus, Dayton and Louisville.
As the delivery service grew, Ewer said, it made since to expand production. He called the EcOhio project a "once-in-a-lifetime opportunity" to work with the zoo, which gained national renown after making sustainability a priority in 2006.
Ewer has a three-part plan for the property, starting with its certification as an organic farm. Next up: producing nutrient-rich hay and vegetables to feed zoo animals. Ultimately, he wants to set up a compost facility using zoo waste.
"There is so much opportunity out there," he said.
He also envisions an educational component for Green BEAN and its farms. Ewer said he is looking onto establishing a not-for-profit organization that would provide farming internships and job placement assistance, plus work with schools to develop a nutrition-education curriculum.
"Our company is so much more than the green bins," he said.
Indeed, Green BEAN on Wednesday was scheduled to donate more than three tons of fresh produce to Indianapolis-based Second Helpings Inc., making good on a promise to contribute two to four pounds of food for every person who supported public radio station WFYI-FM 90.1 during its fall fund drive. Nearly 2,500 pledges came in during the October campaign.
Please enable JavaScript to view this content.