If Indiana University Health makes goods on its plans, which I first reported on Friday, to merge its University and Methodist hospitals, it will mark the latest instance of local hospitals closing hospital facilities in the city core while they open new facilities in the suburbs.
You can see how this has played out over the past two decades in the map below, which was produced as part of a stellar piece of reporting by the Milwaukee Journal Sentinel and the Pittsburgh Post-Gazette. That series emphasized how hospitals in cities around the country have generally vacated areas where there are high levels of low-income and disabled residents—the folks who usually have the greatest needs for health care.
The shading of the map shows the proportion of the population living in poverty. So darker-coored areas have more low-income residents and lighter shaded areas have fewer poor residents.
The red dots are hospitals that have closed since 1991 and the blue dots are hospitals that have opened since then. The green dots are hospitals that were there in 1991 and are still in the same place today.
IU Health accounts for blue dots in Avon, Carmel and Fishers, where it has added hopsitals in the past decade.
Two of the red dots are, I think, for Riley Hospital for Children and University Hospital, which didn't go away, they just merged in 1997 with Methodist Hospital, creating one tax ID. The others that have departed the city core are Franciscan St. Francis Health's Beech Grove Hospital and Winona Hopsital.
This trend goes back farther than just the early 1990s. In 1974, St. Vincent Health closed its hospital on Fall Creek Parkway, opening its current flagship location on West 86th Street.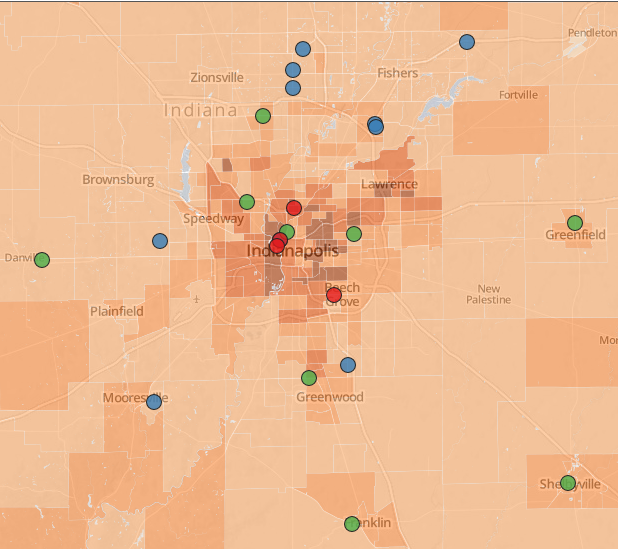 (Image courtesy of jsonline.com)
To be clear, IU Health isn't abandoning downtown. It will still operate two large academic medical centers—one for kids and one for addults—in the downtown area. But its growth has been in the suburbs, not downtown.
These moves outward aren't hard to understand. Just as they say in real estate—retail follows rooftops—so too in health care. New facilities follow the population, which in Indianapolis, has moved steadily outward from the city core since the 1950s.
But there are wrinkles to this trend that are specific to health care. As I explained back in April, hospital economics almost require that hospitals pursue patients who have private health insurance, because those are the only profitable customers.
This predicament is partly the fault of federal and state governments and partly the fault of the hospitals themselves. The Medicaid program for low-income Hoosiers, which is funded jointly by the federal government and by states, has typically paid very low rates to hospitals—roughly 60 percent of their cost of providing care.
The federal Medicare program for seniors has been more generous, but most hospitals built up cost structures that still exceeded Medicare payments. They did so due to competition—if one hospital didn't buy the latest equipment and build the nicest buildings, the next one over would–but also because private health insurance allowed them to do it.
In the Indianapolis area, hospitals receive payments from private health insurers that average 264 percent more than what Medicare pays–for the same services for patients with the same level of sickness.
So since hospitals were losing money on just about every patient except those with private insurance, they understandably went where there were lots of privately insured patients—the suburbs, especially those in Hamilton County.
As a case in point, check out the trio of blue dots in the upper middle portion of the map above. That's the health care corridor along North Meridian Street. Privately insured patients account for more than 80 percent of the revenue at those hospitals.
Hospital economics are now changing under Obamacare and the financial strain on employers and governments created by decades of health care costs growing faster than inflation.
First, Obamacare is forcing health care providers to change how they think about their big inpatient hospitals. They look at them now as cost centers, not as revenue generators. As a result, they are trying to care for patients in lower cost settings like outpatient surgery centers and doctor's offices—or even outside any bricks and mortar facility at all. This is what IU Health is trying to do and why it thinks it can serve the same number of patients with only two inpatient hospitals downtown instead of the three it currently operates.
Also, those hospitals that have facilities in lower-income areas should get help from Obamacare. More than 100,000 Hoosiers obtained private health insurance subsidized by taxpayers via the Obamacare exchanges. Those plans are paying health care providers somewhere between private insurance and Medicare rates.
Also, Indiana health care providers could get better payments from low-income Hoosiers if Gov. Mike Pence's Healthy Indiana Plan proposal is accepted by the federal government and those patients start paying at Medicare, not Medicaid, rates.
That said, don't expect the general trend to change. Private insurance is and will continue to be the most lucrative payment source in health care. And whether we're mapping hospitals, or surgery centers or physician offices or walk-in clinics, health care providers are going to be drawn to where the money is.
Please enable JavaScript to view this content.