Physicians have lots of ways to bring in money.
I noted one back in April, when I wrote about the million-dollar compensation packages being paid by Indianapolis-area hospitals to a handful of the physicians they employ. Most of those big pay packages went to high-dollar surgeons in such fields as orthopedics, cardiology and bariatric surgery.
But even physicians that don't do surgeries can tap into a healthy stream of revenue—from Big Pharma.
Indeed, Indiana physicians and research organizations reaped more than $25 million in payments from 15 pharmaceutical firms in 2012, according to the most recent data made available by the not-for-profit group ProPublica. Those 15 companies account for about 43 percent of the U.S. drug industry.
That money—which includes all payments of $250 or more—flowed to nearly 1,000 doctors, dentists, pharmacists and research organizations. But mostly the money goes to physicians.
Those physicians steadfastly deny that their prescribing patterns are influenced by any of this money, but the drug companies obviously believe otherwise–or else they wouldn't keep spending these large amounts.
Nearly one third of the drug money in Indiana came from right here: from Indianapolis-based Eli Lilly and Co. The nearly $7.3 million Lilly spent not only funded clinical trials and speaking fees for physicians, but also employed current and former clinicians, such as Dr. Blaine Farley, via the Indianapolis-based YourEncore organization.
New Jersey-based Merck & Co. Inc. and U.K.-based GlaxoSmtihKline plc, respectively, spent the second and third most in Indiana in 2012, among the 15 drug companies that publicly report their spending with clinicians.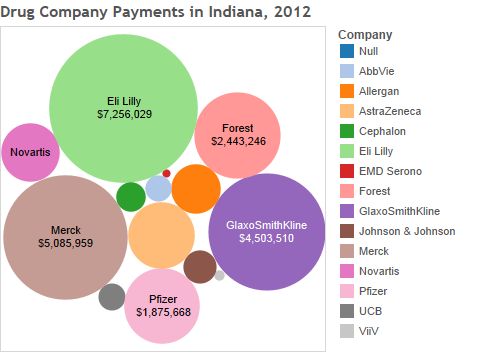 The drug companies paid most of the doctors for consulting and giving speeches about their drugs, as well as for meals and travel cots while doing those things.
For example, Dr. Woodrow Corey, a cardiologist in Carmel, received $83,000 in speaking fees in 2012 from drug company Forest Laboratories Inc. Dr. Chris Bojrab, a Carmel psychiatrist, received nearly $70,000 in speaking fees from Forest, Pfizer Inc., Merck & Co. Inc. and Cephalon Inc.
Bojrab told me a few years ago that the speaking and consulting fees from drug companies run about 20 percent higher than what he would earn by spending the same amount of time seeing patients. But he said it's work that comes on top of his full days.
"It's not uncommon for me to come home and spend three or four hours a night, just to work out the travel details," Bojrab said, adding, "And it's not like the work that you had to do goes away."
However, the biggest drug company payments go to physicians for doing research, such as performing clinical trials. Physicians at the Indiana University School of Medicine and its close affilaite, the Indianapolis-based Regenstrief Institute Inc., were the biggest winners in Indiana.
It's important to keep in mind that those physicians and clinicians are the heads of teams of researchers. So when you see Dr. Anantha Shekhar, a psychiatrist and administrator at the IU School of Medicine, getting more than $1.8 million from drug companies in 2012, it doesn't mean he took all of that home. He may have taken none of it home. The same goes for many of the other physicians on the list below.
All told, 43 clinicians around Indiana received at least $100,000 in drug company payments. You can see the full list here:
1. ANANTHA SHEKHAR, Indiana University,    $1,845,000
2. DOMENICK ZERO, Indiana University,    $1,833,624
3. JEFFERY MILLEMAN, Salus Research,    $1,367,681
4. JON DAVID DUKE, Regenstrief Institute,    $1,190,612
5. MARC BRIAN ROSENMAN, Regenstrief Institute,    $604,537
6. RICHARD SAINI, GoldPoint Clinical Research,   $508,252
7. PAUL RYAN MOE, Indianapolis psychiatrist,    $482,688
8. RAJ KISHORE MATURI, Indianapolis eye surgeon,    $442,287
9. BLAINE FARLEY, Indianapolis ER doctor,    $434,815
10. ELENA CHIOREAN, Indiana University,    $417,166
11. ANDERSON HARA, Indiana University,    $340,221
12. HILLARY H WU, Indianapolis oncologist,    $331,945
13. MARTIN FARLOW, Indiana University,    $325,822
14. PHILLIP D. TOTH, Midwest Institute for Clinical Research,    $296,790
15. RANDALL RAY STOLTZ, Covance Labs-Evansville,    $287,960
16. SCOTT FRETZIN, Indianapolis dermatologist, $270,688
17. NIZAR EL-KHALILI, Lafayette psychiatrist,    $265,760
18. TIM TABER, Indiana University,        $253,405
19. PREETHAM JETTY, cardiologist at Community Hospital-Anderson    $241,904
20. PARAS HARSHAWAT, Terre Haute psychiatrist,    $237,168
21. E. ANGELES MARTINEZ MIER, Indiana University,    $227,600
22. EMILY LIFFICK, Indiana University, $220,160
23. PAUL GENE BIONDICH, Regenstrief Institute,    $210,000
24. ARTIS TRUETT, Pedia Research LLC,    $201,156
25. LETHA LOUISE TETRICK, Indianapolis pediatrician, $198,089
26. NAVEED CHOWHAN, New Albany oncologist,    $198,013
27. HUBERT S REYES, Evansville family physician,    $191,436
28. CASSANDRA ELAINE CURTIS, Indianapolis sleep specialist,    $190,394
29. PAUL YIEN KWO, Indiana University,    $175,795
30. PATRICK J LOEHRER, Indiana University,    $170,248
31. KEN DAWES, Indianapolis dermatologist,    $164,866
32. ERIK ALLEN IMEL, Indiana University,    $164,770
33. DAVID M LOESCH, Indianapolis oncologist,    $158,223
34. JOHN HOWARD PRATT, Regenstrief Institute,    $149,364
35. ANA GOSSWEILER, Indiana University,    $146,063
36. LUKE PAUL AKARD, Indiana Blood & Marrow Transplantation,    $137,965
37. KATHY MILLER, Indiana University,     $135,942
38. MAJED KOLEILAT, Evansville allergist,    $127,556
39. MAQBOOL AHMED, Evansville hematologist,    $124,940
40. WILLIAM C. COLLIS, Fort Wayne cardiologist,    $123,400
41. GARY WATERMAN, Evansville dermatologist,    $112,882
42. JOHNNIE AYERS, Indianapolis family physician,    $111,825
43. AJAY D DESHPANDE, Terre Haute pulmonologist,    $103,107  
For the list of every entity that received drug money in 2012, check out this spreadsheet.
Please enable JavaScript to view this content.