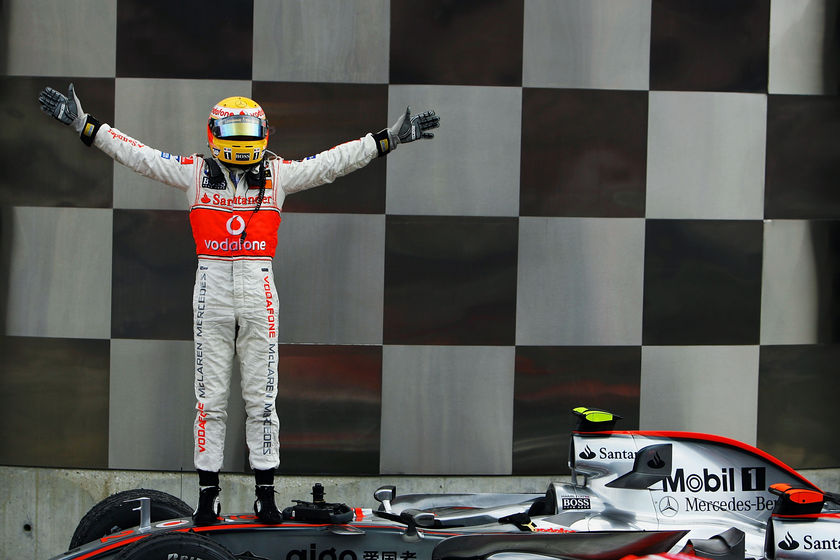 Negotiations are heating up between Formula One and Indianapolis Motor Speedway officials that could bring F1 racing back to Indianapolis in 2009. Speedway boss Tony George told an audience at yesterday's IU Business Conference that he'd like to bring Formula One back in time for the Brickyard's centennial celebration. The facility opened in 1909.
Just Marketing, an Indianapolis-based firm that pairs sponsors with motorsports properties, has been hired by the IMS to help sign a title sponsor for the F1 race. Just Marketing President Zak Brown said F1 czar Bernie Ecclestone and the series' existing sponsors have a "strong interest" in returning.
"I know there's been talk of having an F1 race at Las Vegas or Miami, but the Speedway is the only facility in the U.S. that is up to F1 standards," Brown said. "Indianapolis is turnkey and ready to go. If the right sponsors can be put into place, I think this can happen in 2009."
Brown said he and George had private meetings with potential sponsors late last year, and those discussions are progressing. Brown called interest among companies willing to fork over an eight-figure sum for a multi-year title sponsorship "fairly high."
"I think F1 will come back," Brown said. "At this point, I think it's a matter of when, not if."
F1 officials announce their schedule for the following year by late August. "We'd have to have a deal done by then," Brown said. "The sooner we can make an announcement, the sooner [Speedway officials] can start marketing and promotions and selling tickets."
If F1 races back into Indianapolis, Brown thinks it will stay for a long time.
"Tony wants to have F1 at his track for the rest of his life," Brown said. "F1 is a huge global brand, and it fits with the Indianapolis Motor Speedway's history." George is 48.
The inaugural U.S. Grand Prix F1 race was run at the Speedway in 2000 before a crowd of more than 200,000. Attendance slid in subsequent years, settling around 100,000. F1 and Speedway officials were not able to agree on an extension after its 2007 running.
Do you think an F1 race can make a successful comeback at the Speedway?
Please enable JavaScript to view this content.