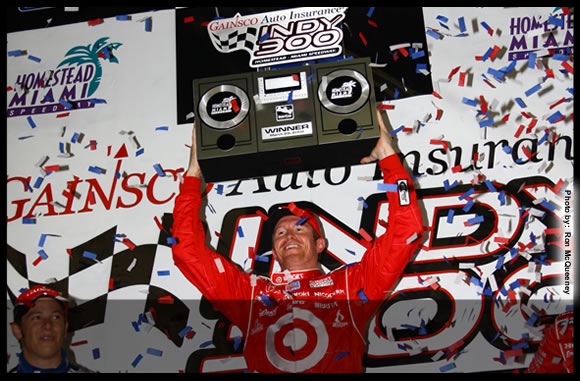 The early returns are good for the Indy Racing League. Attendance and television ratings at Saturday's season opener in Miami were up and local media and fans raved about the on-track racing.
Although the series doesn't disclose official attendance figures, several media outlets reported attendance at Miami-Homestead's 65,000-seat speedway at or above 35,000. Attendance was up about 20 percent from last year, observers said. TV ratings calculated by New York-based Nielsen Media Research are also expected to be up, but those numbers won't be tabulated until later today or tomorrow.
And 71 percent of nearly 5,000 viewers polled by a popular auto racing Web site rated the IRL's season opener an A, while another 24 percent rated it a B.
The eight Champ Car drivers helped create one of the biggest opening day fields in recent IRL history, with 25 cars making the grid. If a practice crash hadn't taken out Graham Rahal, it would have been 26.
"What [fans] saw wasn't the yawning Penske-Ganassi parade of past years, particularly last year, [with] races almost dull enough to be Formula One events," said David J. Neal of the Miami Herald.
Before the race, IRL boss Tony George announced the series will get a new tagline: "I am Indy: One Series. All the Stars." George appears to be borrowing a line from CART, which was known for "Cars and Stars."
Despite the high praise, some sports marketers said IRL officials need to do a better job marketing their races in the weeks before the event if they are to realize the full potential of a unified open-wheel series.
What did you think of the race? And what can IRL do better?
Please enable JavaScript to view this content.