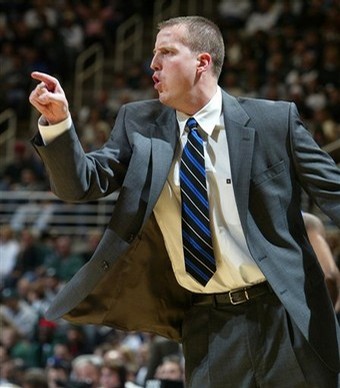 Indiana-Purdue Fort Wayne officials have been trying to schedule a game with Indiana University for the last three years. Putting IU on the schedule would be an important recruiting tool, bring immediate marketing muscle to the program and be a big money maker for the Mastodons.
The dream would be to get the Hoosiers to visit Fort Wayne at least once every three years, with IPFW traveling to Bloomington the other two years. IUPUI has also sought some kind of home game with IU, to no avail. IUPUI is set to visit Bloomington next season. But IPFW, which jumped to NCAA Div. I in 2001, has one thing IUPUI does not—a home arena with a capacity of about 11,000. And Fort Wayne is a strong Hoosier hoops market where IU wouldn't mind gaining some exposure.
Despite IPFW Coach Dane Fife's connections with his alma matter in Bloomington, he had little luck influencing former coach Kelvin Sampson or athletic director Rick Greenspan to give the idea even a whiff.
Now Fife has a new ally at IU in coach Tom Crean. "I would hope that coach Crean would be willing to negotiate," Fife told the Fort Wayne Journal-Gazette.
As the associate head coach at Michigan State, Crean heavily recruited Fife, who was Michigan's Mr. Basketball in 1998. Fife and Crean have remained close over the years, and IPFW was successful in scheduling a game with Marquette—where Crean formerly coached—last year.
Crean, himself a Michigan native, is just now filling out his assistant coaching staff and dealing with current player turmoil. Recruiting is next up for Crean, so scheduling won't likely be considered for a few weeks. And with IU's schedule already set for next year, Fife and IPFW will have to wait until at least 2009-10. But this time, unlike with Sampson, Fife expects he'll get an audience with the Hoosiers coach.
Please enable JavaScript to view this content.