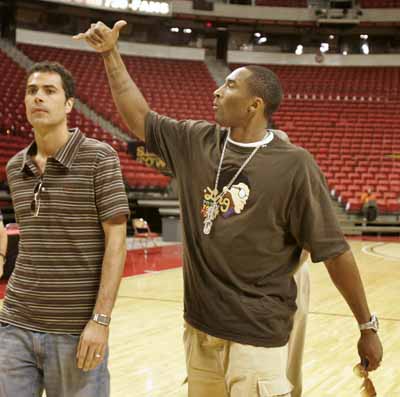 Many Indiana University fans probably wondered why the man sitting next to Eric Gordon at Monday's press conference looked familiar. Gordon told the world he was leaving IU for the NBA while sitting next to one of the most controversial sports agents of his time.
IU faithful first got to know Rob Pelinka as the choir boy-looking jump shooter coming off the bench for the University of Michigan during the early days of the Steve Fisher era. He was a freshman on the 1988-89 Michigan team that won the NCAA title. Pelinka played alongside UM's Fab Five, which lost national title games in 1992 and 1993.
Long after college hoops fans stopped cheering for Pelinka, he earned a law degree at Michigan and began scaling the ranks as a sports agent at SFX, which is owned by Clear Channel.
Pelinka worked alongside Arn Tellem, who represented some of the biggest names in the NBA, including Jermaine O'Neal, Reggie Miller and Kobe Bryant. When Tellem left SFX for Wasserman Media Group in 2006 and Pelinka stayed behind, speculation about the divide swirled. Bryant, who once lobbied Tellem to drop O'Neal because the Pacers big man was deflecting Tellem's attention from the Lakers star, stayed behind with Pelinka when Tellem departed.
But Pelinka's most notorious move came in 2004, when Cleveland Cavaliers officials said the agent flatly lied to them and reneged on a handshake deal concerning power forward Carlos Boozer.
According to sources in Cleveland, Boozer and Pelinka approached the Cavs about letting Boozer out of the last year of his contract in June 2004. The Cavs could have had Boozer on the roster the next season for $695,000, but the team did not pick up their option, the club said, after Boozer had committed to re-signing for the team's full mid-level exception–somewhere around six years and $40 million. Two weeks later, Boozer signed a six-year $68 million deal with the Utah Jazz.
Many team owners and managers said they would rather not negotiate with Pelinka after the Boozer deal. But Pelinka's ability to draw an all-star roster to SFX mandated that many NBA team officials come to the table.
Gordon's father, Eric Gordon Sr., said the younger Gordon has not yet signed with an agent. But he said his son would sign with one soon, and Pelinka is a frontrunner. If Gordon does sign with Pelinka, the former Hoosier, NBA sources said, would quickly become one of the agent's top three clients.
See below for Pelinka's NBA clients and how much they'll make this season.

Kobe Bryant $19.5 million

Carlos Boozer $11.6 million

Chris Kaman $8.6 million

Corey Maggette $7.8 million

Gerald Wallace $7.5 million

Morris Peterson $5.4 million

Derek Fisher $4.4 million

Keyon Dooling $3.6 million

Andre Iguodala $2.8 million

Channing Frye $2.5 million

Julian Wright $1.7 million

Marcus Williams $85,432

Total $75.4 million
Please enable JavaScript to view this content.