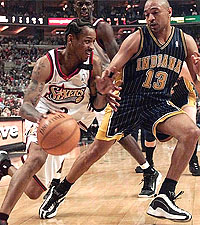 Donnie Walsh is tapping into his old Indiana Pacers contacts to fill key vacancies for the New York Knicks. Since becoming president of the Knicks last month, Pacers scout Jimmy Powell and Brian Winters, who worked under Walsh as the head coach of the WNBA's Indiana Fever, have been named as possible Knicks assistant coaches.
More recently Mark Jackson, who played on some of the best Pacers teams Walsh ever put together, has surfaced as a strong candidate to replace Isiah Thomas as head coach. Jackson, who started his career as a player with the Knicks, did not discount the rumors. But since neither he nor Walsh are publicly discussing the matter, Jackson said all the talk is "pure speculation." Currently, Jackson serves as an NBA television analyst. That position, he said, has kept him close to the game and the players.
In years past, Jackson also was rumored to be a candidate for the head coaching position for the Pacers and St. John's University. "I guess I'm 0 for two," Jackson said with a laugh. Sources within the league said Walsh favored bringing Jackson in to replace Rick Carlisle at Indiana, but Larry Bird sought to go another direction. This time with the Knicks, Walsh will be calling the shots by himself. Those same sources said Walsh and Jackson have had multiple conversations about a position in New York.
But Walsh also said he's leaving the door open to hiring people with Knicks roots into key positions. That has led to speculation that he could tap former Knicks all-star Patrick Ewing for an assistant coaching position.
Please enable JavaScript to view this content.