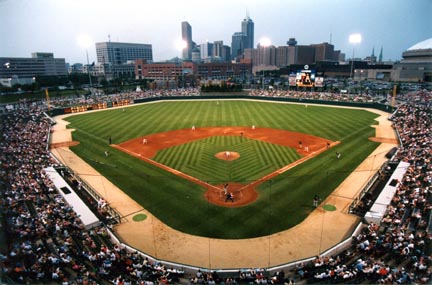 The Indianapolis Indians are one of the most stable teams in this region in one of the most stable leagues in the country. The International League will celebrate its 125th anniversary this week at Victory Field.
The highlight comes on Friday when former Indianapolis infielder Don Buford will be inducted into the league's Hall of Fame.  League President Randy Mobley and Indians President Max Schumacher will join Buford on the field for a special pre-game ceremony that night.
Fans should expect the ceremony to be without wild promotional antics. Though minor league baseball is prone to zany marketing tactics, the Indians have a track record of following tried and true marketing formulas, not the latest trends or outrageous gimmicks. Some would call them downright conservative.
Earlier this year, at the team's annual shareholder meeting, Schumacher was asked why the team doesn't sell naming rights to Victory Field, which has been cited by several baseball publications as one of the finest minor league ballparks in the country.
"We like the name Victory Field," Schumacher told stockholders. "It has a strong tradition behind it."
The back end of Schumacher's response shows he's a student of business as well as history.
"I know naming rights have been a big trend in sports, but naming rights for a minor league team have not proven that lucrative. For a franchise like the Indians, a local enterprise with no national radio or TV deals, a naming rights deal is just not that lucrative. We think Victory Field is a great name. We think there's equity in that name."
Reading between the lines, you can sense Schumacher thinks there could be a fan backlash from tattooing Victory Field with a corporate moniker.
Do you agree? Or do you think the Indians should sell naming rights to their home field?
Please enable JavaScript to view this content.