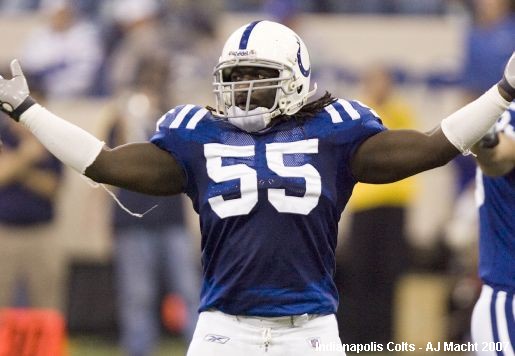 While all eyes are focused on quarterback Peyton Manning, I like to look a little further down the Indianapolis Colts' pay scale for hidden gems. These are the players guys like Colts President Bill Polian and his son, Chris (VP of football ops), are keen to watch. With Manning, it's a no brainer. As long as he has two good knees and a strong throwing arm, you keep him—no matter what.
But when it comes to players like Clint Session, Gijon Robinson and Melvin Bullitt, it takes a little more detailed analysis to determine if you keep them, invest more into them, or let them fly. The performance of such players also is a key indicator of the job a team's scouts and position coaches are doing.
Earlier this season, I named Bullitt the team's most valuable player. Not because of statistics alone, though his aren't shabby. But due to what I call his miles per gallon. A player's MPG is calculated looking at his stats and his salary. You might also call it tackle- or  yard-per-dollar.
Bullitt, for instance has 77 tackles (including defense and special teams), four interceptions (including a pair of game savers), four more pass deflections and one forced fumble. Not bad for a guy who was picked up as a rookie free agent out of Texas A&M in 2007. The best part for the Colts front office, they will only pay Bullitt $375,280 this season. That's in the bottom fourth of the team, and well below the $646,440 median salary the Colts will pay its players this year.
But Bullitt isn't the only bargain on the roster. In fact, I'm not even sure if he's still my MVP. There's a good argument that the Colts are getting more MPG out of second-year linebacker Clint Session, out of Pittsburgh. Session—with 102 tackles this year—is one of four Colts players with more than 100 tackles. Session had 74 solo tackles, two pass deflections and three forced fumbles, and his biggest games came in the last half of the season, which makes him one of the team's best up-and-coming prospects. Session is also due to make $375,280 this year.
There are two guys who haven't had the impact Session and Bullitt have had this year, but who you can bet the Polians are paying attention to.
Second-year tight-end Gijon Robinson doesn't have gaudy statistics this year, but has become a much bigger part of the Colts' offense in recent weeks and could some day be the No. 2 behind Dallas Clark. He was a free agent acquisition out of Missouri Western State who is starting to make the Colts scouts look pretty smart. His pay this year: $300,760. There are only two players on the active roster who make less: Defensive tackle Eric Foster and safety Jamie Silva.
And what about rookie defensive end Marcus Howard. The fifth-round selection out of Georgia hasn't had much chance to shine this year, but yesterday he was flying around like he fits in pretty well with the Colts' speed defense concept. Yesterday against the Titans, Howard had seven tackles (four solo), three more assists, 1.5 sacks, two more times pressuring the quarterback and one forced fumble. Not bad for a guy who only had two tackles all season coming into the game. Howard is being paid $461,500 for this season, but a few more games like that and he's sure to be seeking a pay raise.
Please enable JavaScript to view this content.