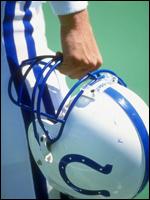 While Indianapolis Colts coaches—and fans—are asking themselves if there are some soft spots in the roster, the team's sales and marketing executives are pondering a different question: Is the fan base soft?

They're about to find out. With an impressive 81-game sellout streak in hand (and a 24,000-deep season ticket waiting list), the Colts head into an uncertain off-season.
The economy is still spiraling down, and the Colts may need to pump up ticket prices to shore up the roster. The Colts player payroll this year ($93.4 million) is among the lowest of the playoff teams, and certainly far below the San Diego Chargers' payroll ($111.8 million). The franchise would appear to have some room to wiggle under the salary cap to bolster its roster. Peyton Manning could certainly aid that by restructuring his contract. But a ticket price increase might be in order to raise the needed cash to afford roster upgrades. Opinions vary on the Colts' ability to keep their sellout streak alive if ticket prices increase while the economy tanks in this small NFL market. NFL Commissioner Roger Goodell has advised teams to be cautious in raising ticket prices this off-season.
The Colts will start their season ticket renewal process next month. Last year, Colts' season ticket renewal was in the 98 percent range, but meeting that level this year could be a challenge. With numerous season tickets going to corporate clients, sports marketers expect the soft economy to have a significant impact. The Colts might have another problem. When the team moved from the 56,000-seat RCA Dome to 63,000-seat Lucas Oil Stadium, Colts officials gave existing ticket holders the opportunity to buy more tickets. Sports marketers think those same fans may now dump some of their tickets, glutting the market at an unfortunate time. The fans who were eager to buy tickets a year ago when the economy was solid, may now be too concerned with their home loan or job search to buy tickets. "We should know what the situation is by the end of March," said Tom Zupancic, the Colts' sales and marketing boss.
To read more about season ticket sales, and see where the Colts sellout streak ranks among the 32 NFL teams, click here.
Please enable JavaScript to view this content.