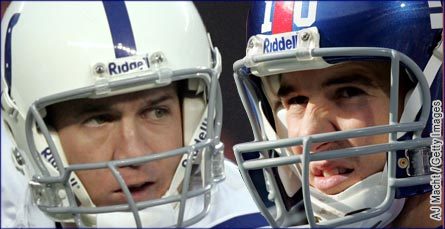 It's long been debated which of the Manning brothers is the better quarterback, Peyton or Eli. Which is the highest paid has never been a debatable point. In Indianapolis—and in New York, it may soon be a controversial point, but not debatable.
Peyton's little brother is on the verge of signing one very big contract. Much bigger, in fact, than Peyton's. Eli's new contract might even be the biggest in the NFL.
According to the New York Daily News, the Super Bowl XLII MVP is looking to become only the eighth NFL quarterback to earn $100 million. Preliminary talks indicate that Eli Manning is on the verge of signing a seven- to eight-year deal that would earn him around $120 million, with $40 million guaranteed. Eli's original contract was a seven-year deal worth $45 million to $54 million depending on incentives.
His new contract would enable Eli Manning to earn about $1 million more annually than Peyton, 32, after he signed a nine-year, $98 million deal in 2004 with the Colts. If this deal does go through as expected, Eli Manning, 28, would be put near the top with Philadelphia's Donovan McNabb (12 years, $115 million), Cincinnati's Carson Palmer (nine years, $118.75 million), and former Atlanta quarterback Michael Vick (10 years, $130 million) on the all-time highest paid list.
Whispers about a mega-payday for Eli Manning began after he guided the Giants to a stunning Super Bowl victory over the New England Patriots last year. In the wake of the Giants' first-round playoff flameout this year, New Yorkers are split over Eli Manning's worth. Giants' executives appear less conflicted.
"That's money we're going to be happy to pay," one team source told the Daily News.
Please enable JavaScript to view this content.