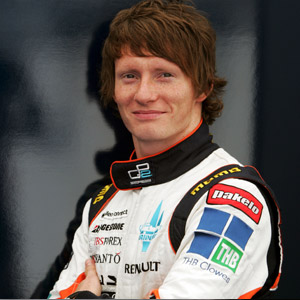 Dreyer & Reinbold Racing announced today it has signed a deal with British racer Mike Conway to become the team's first confirmed driver for the 2009 Indy Racing League campaign.
The 25-year old rookie comes to the U.S.-based open-wheel series after spending the majority of his career in the European formula car ladder.
Most recently, he completed his second season driving in the GP2 Series with Trident Racing in 2008.  He was also a Honda F1 Racing test driver for the past two seasons.
"I'll be visiting a lot of new tracks for the first time, especially oval tracks, but I'm very much looking forward to the challenge." Conway said.
Conway has been one of the top up-and-coming British drivers for the last several years, having won the British Formula 3 Championship with Räikkönen Robertson Racing in 2006. That year was also highlighted by a win in the famed Macau Grand Prix. His most recent success was winning a round at the famous streets of Monte Carlo in Monaco in the GP2 Series in 2008. In 2004, he won the Formula Renault UK Championship, and in 2005, he was recognized twice by the British Racing Drivers' Club for his achievements in Formula 3.
Please enable JavaScript to view this content.