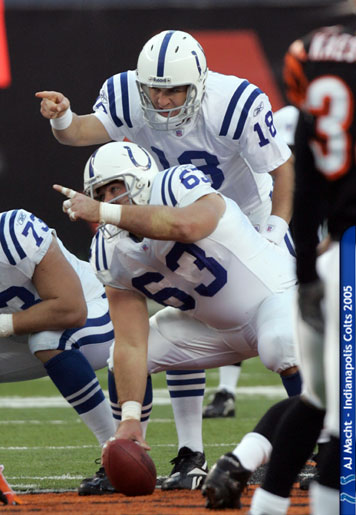 Indianapolis Colts quarterback Peyton Manning is nothing if not professional. So it's no wonder Manning slipped below the public eye when he lobbied Colts management to keep center Jeff Saturday. Manning has made no secret just how important Saturday is to the team. At this point in Manning's career, his center is just as important to his own performance as he is to the team's.
The center's role in the NFL is largely unsung. He does more than get the ball cleanly to the quarterback—which is pretty important in its own right. A top center helps read defenses, orchestrate the O-line and coordinate schemes.
Manning, who is 25 days short of his 33rd birthday, knows there's more days behind his cart than there are in front of this horse. He also knows he can't spend a season—or even a part of a season—becoming acquainted with a new center. It's not even evident who on the Colts roster would replace Saturday. Steve Justice, a 2008 sixth round draft pick out of Wake Forest, is the only other true center on the roster. Depending on such inexperience at this point in his career doesn't sit well with Manning.
Manning didn't sit down with Colts owner Jim Irsay and/or president Bill Polian and demand that Saturday stay. That's not his style. But gently, through seemingly casual conversation with coaches and team brass, and through the work of intermediaries, Manning let his feelings be known; to remain a winner, a serious Super Bowl contender, Saturday must stay.
Sure, the extra $4 million bump in salary cap space—to $127 million—was helpful. But Saturday's return was imminent anyway, largely because Irsay wants to win as bad as Manning. And Polian can see that the relatively small change spent on Saturday is money well spent if it keeps his hall-of-fame quarterback happy—and more importantly, productive.
Saturday was paid $3.5 million last year. Even if his salary is doubled, that would barely put him in the top five salaries on the team. And Colts brass can save money by having a single retirement party when the duo rides off into the sunset together.
By the way, Saturday's contract was for three years. The clock is ticking.
Please enable JavaScript to view this content.