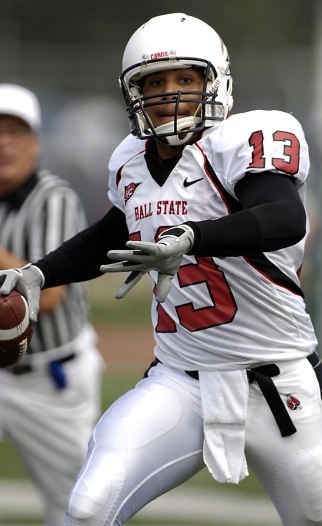 If a tree falls in a forest, and no one is there to hear it, does it make a sound? Ball State's Nate Davis might be asking that very question this week. His pro day in Muncie Friday was attended by a scant few media outlets and a minion dispatched by Indianapolis Colts President Bill Polian. And that was about it. If Polian wasn't regarded as a supreme judge of football talent, the day might have been considered a total bust for Davis.
"I was very disappointed (only one team showed up), but you only need one team to fall in love with you," Davis told reporters after the workout.
The fact that Polian scouted Davis himself during the season, and sent Colts' personnel to take a second look, though, paints an intriguing scenario. No one is wheeling Colts QB Peyton Manning, who turns 33 today, out the door just yet. But nobody thinks he has more than about five years left in the tank either. Davis, 21, is an interesting prospect (or project) for the Colts.
His pro day featured him throwing passes to former teammates Darius Hill, Louis Johnson and former Indiana wide receiver Brandon Walker-Roby. Those who were there thought Davis' performance was solid. Former NFL quarterback Steve DeBerg, who has been working with Davis since January, was pleased.
"He threw the ball like he always does—outstanding," DeBerg told the Muncie Star Press. "He made all the throws—short, deep, intermediate. I was very happy, and impressed as always. It's fun to work with a quarterback who has as much talent as Nate does."
But Davis has been dinged for his small hands, odd passing style and propensity to fumble. With waning interest among other NFL franchises, Colts' scouts seem to think they can get a bargain. Probably a risk worth taking if Davis is available in the later rounds of this year's draft.
After a shaking performance at the NFL Combine in Indianapolis in February, followed by his largely unattended pro day, draft day prognosticators say Davis could slip beyond the third round. Maybe well beyond the third round. Whether he is a diamond in the rough or an NFL franchise quarterback remains to be seen.
What Polian and his posse think of Davis is of more immediate importance. We should have the answer to that on April 25 or 26.
Please enable JavaScript to view this content.