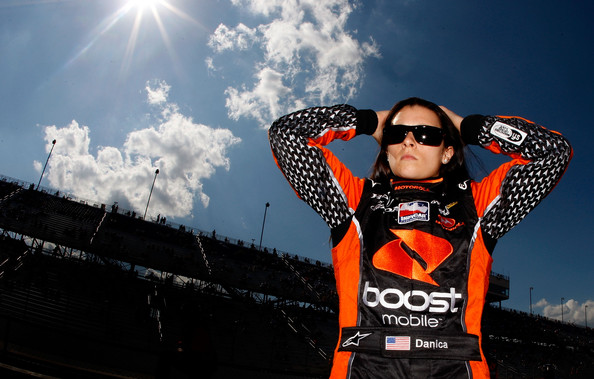 There's only one thing for sure when it comes to Danica Patrick's career future. She isn't showing any (or at least many) of her cards. Yes, she's hinted (again, remember 2006) she might like to try NASCAR. And yes, word has leaked that Chip Ganassi is interested in hiring the 27-year-old race car driver when her contract expires with Andretti Green Racing at the end of this year.
George Pyne is likely to become a central figure in all of this. Pyne, who you may remember as NASCAR's chief operating officer, is now president of IMG Sports and Entertainment, the mega-firm representing Patrick in all things business and marketing. Patrick wouldn't bite when reporters asked her Tuesday if Pyne is pushing her toward a future in NASCAR.
Instead, at Tuesday's weekly Indy Racing League teleconference, Patrick said she's focused on winning open-wheel races now and won't talk further about her future until the season ends Oct. 10. In the immediate future, that means Patrick is focused on Iowa, where the IRL races Sunday.
Patrick did admit that she and IMG officials, were "collecting information" in preparation for a decision on her future. Her assessment of NASCAR certainly was glowing.
"NASCAR has so many viewers and so many partners," Patrick said. "There are lots of options inside and outside the car. So there's reasons [why drivers make the move]. And it looks like fun.
"It's kind of like the Indy 500 every weekend," Patrick added. "That's a lot of fun as a driver to be part of something important, and something people want to watch."
What exactly is Danica saying? I'll leave the interpretation up to our viewing audience.
Thank goodness, though, Patrick still puts winning first.
"The most important thing is to put myself in a situation where I can win as many races as possible and run up front and be in that competitive situation," Patrick said. "After that, there has to be thoughts to the brand side and being able to make the most of myself as an athlete and as an endorser of products and … gaining exposure so that in due time I'm able to explore other things outside of racing."
Please enable JavaScript to view this content.