We're already midway through the month of May, so let's fire up a roundup leading with news from the Indianapolis Motor Speedway.
New book breaks down history of Indy 500 for kids
Author Chris Workman has penned a new book about the Indianapolis 500, and Speedway officials are sure to be excited about the book's target market.
"The Spectacle—Celebrating the History of the Indianapolis 500" is aimed at educating and entertaining children by breaking down a century of Speedway history into a series of short, topical sections. Speedway officials have been keen to expose children to the Speedway and its events in an effort to nurture the next generation of racing fans.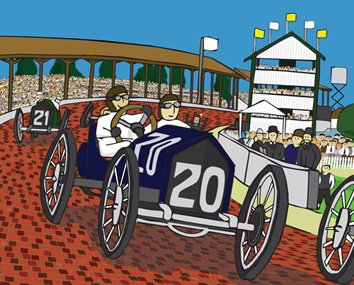 "The Spectacle" attempts to boil down more than a century of racing history, beginning with the first Indianapolis 500 in 1911. (Image courtesy Chris Workman)
Members of Gen X and the Millennials haven't been nearly as passionate about motorsports as Baby Boomers and the generations before.
IndyCar Series driver and 2014 Indianapolis 500 champion Ryan Hunter-Reay wrote the forward for the book, and A.J. Foyt is featured in a special introduction.
IndyCar fans and children's book aficionados might be familiar with Workman, who in 2015 wrote and illustrated "Josef, The Indy Car Driver," a children's book about race car driver Josef Newgarden. The 26-year-old Newgarden, an up-and-coming IndyCar star, worked with Workman on the book.
About 3,000 copies have been sold, the Charlotte, North Carolina-based author said.
"These [books] are written and illustrated in an authentic manner with a goal of getting kids excited about the sport, and giving parents and grandparents who are fans a wonderful tool to share their racing passion with their kids," Workman told IBJ.
Workman is appearing at several central Indiana Barnes & Noble book stores in the weeks leading up to this year's Indianapolis 500, including a May 24 appearance with Newgarden at the River Crossing store. There, Newgarden will do a reading of "Josef, The Indy Car Driver," and sign books.
French Lick golf tourney drawing big stars
The first-ever Senior LPGA Championship is less than two months away, and the 81-player field is taking shape. 
Five World Golf Hall of Fame members—Laura Davies, Patty Sheehan, Hollis Stacy, Betsy King and Pat Bradley—have committed to the event along with an additional 12 LPGA Tour major champions.
The first major of the year for former LPGA stars will take place on the Pete Dye Course at the French Lick Resort on July 10-12. The total purse is $600,000 and all three rounds will be televised on The Golf Channel.
"The names already committed are an impressive collection of talent that will no doubt create thrilling golf for fans in French Lick and the surrounding area along with the Golf Channel audience," said Tournament Director Mike Nichols. "Laura Davies—who is undoubtedly one of the most accomplished golfers worldwide—brings a great deal of recognition to the event, and to have 17 LPGA major champs already committed is amazing."
Davies won 84 tournaments around the world, including 20 on the LPGA Tour, and was inducted into the World Golf Hall of Fame in 2015. Sheehan, who won 35 times on the LPGA Tour including six majors, was inducted into the LPGA and World Golf Halls of Fame in 1993. Hollis Stacy won 18 times on the LPGA including three U.S. Women's Open's and was elected to the WGHOF in 2011.
King tallied 34 career wins including six majors. Bradley won 31 times and led the LPGA in wins in 1983 (4) and 1985 (5).
King has devoted the last decade to her Golf Fore Africa charity and vows to raise $10 million over the next five years to bring clean water to people in Zambia.
The 12 LPGA major winners in addition to the five Hall of Famers are Brandie Burton, Donna Andrews, Jan Stephenson, Sally Little, Cathy Johnston-Forbes, Jerilyn Britz, Liselotte Neumann, Pat Hurst, Christa Johnson, Martha Nause, Jenny Liback and Nancy Scranton.
The late medical device magnate Bill Cook and Cook Group Inc. invested $560 million into the French Lick Resort—which, in addition to the two hotels, includes five restaurants, three golf courses, a casino, horse stable, spa, bowling alley and many other amenities (like a trolley train connecting it all). Resort officials are hoping to use events like the Senior LPGA Championship to boost its brand and increase leisure and corporate business.
In 2015, the course hosted the Senior PGA Championship and received largely positive reviews from players and spectators.
Speedway signs deal with Jostens
Indianapolis Motor Speedway recently named Minneapolis-based Jostens Inc. the official champion's ring provider for the Indianapolis 500 and Brickyard 400.
Financial terms of the deal were not disclosed.
Jostens also will be the preferred jewelry and trophy supplier of IMS and will continue its relationship with the IndyCar Series, supplying its official series championship ring and official fan rings.
"These rings are a special part of racing history, celebrating one of the greatest victories in all of sports and forming a lifelong keepsake for some of our most celebrated drivers," said Speedway President Doug Boles.
Jostens also will design and supply the pace car driver ring, full field starter rings and Pit Stop Challenge winning crew rings for the Indianapolis 500. 
For the IndyCar Grand Prix last weekend, Jostens made rings for the top three finishers. 
Along with supplying the winner of NASCAR's Brickyard 400 with a ring, Jostens also will provide the winner of the NASCAR Xfinity Series Lilly Diabetes 250 with a champion's ring.
"We are honored to partner with the Indianapolis Motor Speedway to recognize championship performance on the track," said Jostens Vice President Chris Poitras said in a statement. "The ranges of events IMS hosts, and the broad base of fans they inspire, create some of the most memorable moments in sports."
Jostens, a subsidiary of Newell Brands, was founded in 1897.
Andretti Autosport signs MainGate Inc. to handle merchandise sales
Andretti Autosport this month signed a multiyear deal for Indianapolis-based MainGate Inc. to handle merchandise sales for its IndyCar Series and other race teams. 
Under the agreement, MainGate will develop and market officially licensed merchandise for the entire Andretti team, including the team's efforts in the IndyCar Series, Indy Lights and Global Rallycross. 
Apparel and headwear designs will focus on drivers Marco Andretti, 2014 Indianapolis 500 Champion Ryan Hunter-Reay, Takuma Sato and defending Indianapolis 500 Champion Alexander Rossi. 
In addition, MainGate will provide team apparel for Andretti Autosport staff and crew members. 
MainGate will assist Andretti Autosport with wholesale opportunities to the organizations' list of sponsors and partners. 
The e-commerce site ShopAndretti.com will launch before the 101st running of the Indianapolis 500 on May 28 and feature driver and team apparel and headwear, MainGate officials said.
"As Andretti Autosport continues to grow, we found a need to find an online merchandise portal and e-commerce website for our fans, partners and employees across all racing platforms that will enhance our marketing efforts. MainGate stood out as being the clear choice to meet our needs," Jody Bennett, Andretti vice president of marketing and strategic partnerships, said in a media statement.
Please enable JavaScript to view this content.