The Indiana Fever will take on the New York Liberty tonight at Bankers Life Fieldhouse in a game that—for the home team at least—has nothing on the line but pride.
The Fever—who are 9-21, have lost four games in a row and are missing three guards to injuries—were bounced out of post-season contention on Sunday with a loss to the Washington Mystics. That ends a streak of 12 straight playoff appearances, a league record.
"It is unfortunate and very disappointing we got eliminated," said guard Marissa Coleman, who had six 3-pointers during the game.
On the injured list are starting guards Shenise Johnson (11.3 ppg) and Briann January (9.5 ppg), plus Tiffany Mitchell (10.3 ppg), all of whom are out for the season.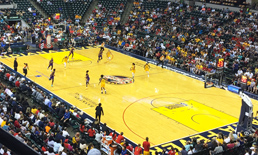 Attendance at Fever home games has lagged this season. Click image for larger view. (IBJ photo)
And the Fever must still play four games before the players—and their fans—can head home until next spring.
It's not a good way to put fans in the stands.
Through the first 14 home games this season, the Fever's attendance averaged 7,427.
That's a 13 percent drop from last year, when fan favorite Tamika Catchings played her final season. Catchings' farewell tour had led to big increases in sales of single-game tickets and mini-season tickets.
In fact, attendance was higher in 2016 than it had been since the team's second season in 2001.
So the drop off this year is not a big surprise.
But the news isn't all bad. Through mid-July, the Fever had the fifth-highest average attendance in the 12-team league, according to WNBA Stats and Facts, a twitter feed that follows WNBA action.
The WNBA Attendance Average is 7,518. That is a 1.8% decrease from last season (7,655) and a 1.7% decrease from July 21, 2016 (7,648). pic.twitter.com/jhmKu53fKB

— WNBA Stats and Facts (@WNBAStatsFacts) July 21, 2017
If the team maintains that position through the end of the season—something that could be difficult, given the team's poor late-season performance—it would finish in the same relative position as last year and higher than in all but two other years.
Guard Jeanette Pohlen-Mavunga said after Sunday's loss that the Fever will "play hard the rest of the season."
"Given what's gone on, we're hanging in there and playing best we can," she said.
Current league-wide attendance figures aren't available. A spokesman for the WNBA said the league releases official numbers only at the all-star break and after the season is finished.
At the break, WNBA President Lisa Borders said attendance was up league-wide and "we are really excited about that."
Please enable JavaScript to view this content.