The Indy Eleven will play in a new league and venue when the professional soccer team kicks off its season March 24. Now it has a new provider of merchandise.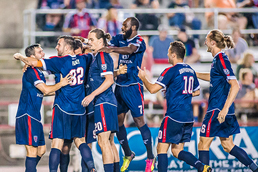 Indy Eleven's merchandise deal with MainGate will include team apparel. (IBJ Photo)
Indianapolis-based MainGate Inc. announced on Thursday that is has entered into an agreement with the Indy Eleven to develop a full line of apparel and novelties, including T-shirts, headwear, jerseys and scarves.
MainGate's agreement also includes wholesale opportunities, merchandising operations for 17 Indy Eleven home games at Lucas Oil Stadium, and a new e-commerce site, Shop.IndyEleven.com.
MainGate is a manufacturer and seller of licensed products in sports and other sectors. Indy Eleven previously handled all merchandise internally, a spokesman for the team said.
Terms of the deal were not disclosed.
"It's hard to quantify because they're moving into a new league and a new venue," MainGate President and CEO David Moroknek told The Score. "They're certainly playing in one of the best venues in the country, and we're excited about being a part of it."
The Eleven announced in January that it has joined the United Soccer League, along with fellow new additions Fresno FC, Las Vegas Lights FC, Nashville SC, North Carolina FC and ATL UTD 2. The 30-plus-team USL is a Division 2 professional league, as sanctioned by the U.S. Soccer Federation, behind Major League Soccer.
The Eleven had played in the North American Soccer League since the team's inception in 2014. Indy led the NASL in attendance in 2017, playing at Michael A. Carroll Track & Soccer Stadium on the IUPUI campus and drawing an average of 9,170 fans per game.
In late January, the team announced it had arranged to play its home matches for the 2019 season at Lucas oil Stadium.
"We couldn't be more pleased to partner with MainGate," Indy Eleven President Jeff Belskus said in a press release. "MainGate knows the market, they understand our brand, and I'm confident we will have a very strong product line that our fans deserve."
Please enable JavaScript to view this content.