This week, flights of theatrical fancy at the Phoenix Theatre and in Chicago.
__________

The same week that we were misled by tall-tale-telling parents into believing that their child was flying high over Colorado in a Jiffy-Pop-like balloon, Phoenix Theatre audiences were joyfully introduced to an Englishman who claimed, among other things, to have witnessed an octopus attack, survived a catastrophic storm, been welcomed into an aboriginal tribe and ridden giant sea turtles (even figuring out an innovative way to steer them).

The difference? At the Phoenix, we love the guy. And we have no desire to see charges brought against him.

As with such joyous exaggerators as Baron Munchausen and the Albert Finney character in the film "Big Fish," the title yard-spinner in Donald Margulies' play "Shipwrecked! An Entertainment: The Amazing Adventures of Louis de Rougemont (as Told by Himself)" (running through Nov. 8) is meant to be loved, not dissected. And as played by the indefatigable Charles Goad, he's a complete charmer, never drifting into smugness and always retaining the core of the sickly boy who long ago was put to bed with tales of Crusoe.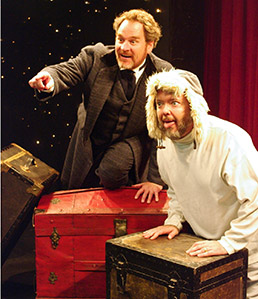 A man and his dog: Charles Goad is the tall-tale teller and Eddie Curry his faithful dog (among many other roles) in "Shipwrecked!" at the Phoenix Theatre. (Photo Courtesy Julie Curry)
As an adult, he tells his stories, à la Charles Dickens, in chapters, complete with teasing titles. Two assistants fill in all of the supporting parts (with Eddie Curry standing out in characters ranging from a loyal dog to a tribal leader to … well … I don't want to ruin a wonderful visual joke and hilarious drag performance). The adventures are magically accented by an on-stage sound and visual effects duo. In fact, the stagecraft is so adept that it's easy to overlook the fact that de Rougemont's adventures, in and of themselves, don't seem all that original.

Nonetheless, while Goad is spinning and the stage is transforming, "Shipwrecked!" is blissful entertainment.

Regular readers of this column and my A&E blog know that I'm adamant about not spoiling surprises. But it's impossible to talk about the impact of this show without giving away at least a hint of the crucial changes that happen as the show approaches its end. So with a SPOILER WARNING firmly in place, I regret to inform that Louis de Rougemont faces his James Frey/"A Million Little Pieces" moment. As famously happened to the alleged memoirist when Oprah found out she had endorsed a sham, the real world intrudes on de Rougemont's fragile, fictional creation. And it isn't pretty.

As inevitable as his comeuppance may seem, the drastic tone shift in the show takes the wind out of its sails, both literally and figuratively. And Margulies doesn't have all that much insightful or new to say about fame and embellishment to make that crashing letdown seem in any way medicinal. I felt like a child who had just finished reading a wonderful story only to have a stern adult say "Well, none of that junk is true." And a brief attempt at the end to re-spark that magic didn't, on my early visit to the show, have the seemingly desired effect.

Still, what is likely to be remembered is that stunning first hour—a stretch of time where, thanks to theatrical magic, anything could happen. I'll stick with those memories of a show that remains highly recommended.
__________

Speaking of theatrical magic, I'm still smiling from a visit to Chicago's Goodman Theatre to see its revival of "Animal Crackers" (which has been extended through Nov. 1).

I hoped for merely the chance to see a reasonable facsimile of the Marx Brothers performing the bits I remembered from the film (the card-playing scene, "Hooray for Captain Spaulding," etc.). And I wasn't disappointed in the least.

Joey Slotnick didn't just nail the Groucho wisecracks, he also perfectly captured Marx's distracted, "one foot in the scene and the other elsewhere" air. Jonathan Brody made Chico's moments at the piano as fun as his mismanagement of the English language. And Molly Brennan's Harpo seemed to have his/her own internal logic that it was best not to try to understand.

But what made this production such a near-total joy for me was the fact that the non-Marx-ish moments were just as smile-inducing.

Never did I feel that urge that happens so often when watching Marx Brothers movies to just fast-forward to the good parts. At the Goodman, it was nearly all good parts. Director Harry Wishcamper's show-opening dance-erture (think of an overture with movement instead of instruments) got things off on just the right foot. The Bert Kalmer/Harry Ruby score played as remarkably fresh—in large part because the production didn't drape a layer of nostalgia over it, putting its honest pleasure over its kitsch value.

And a top-notch supporting cast made the most of their double roles, including dancers Tony Yazbeck and Mara Davi (who are on their way to the Broadway production of "White Christmas") and Jessica Mueller, who I raved about for her stunning work last season in the Cort Theatre's "Carousel." For all that joy, I'll happily deal with a second act that's a number or two too long.

Hooray for Captain Spaulding (and the rest of the crew), indeed.•

__________

This column appears weekly. Send information on upcoming arts and entertainment events to lharry@ibj.com. Twitter:IBJARTS