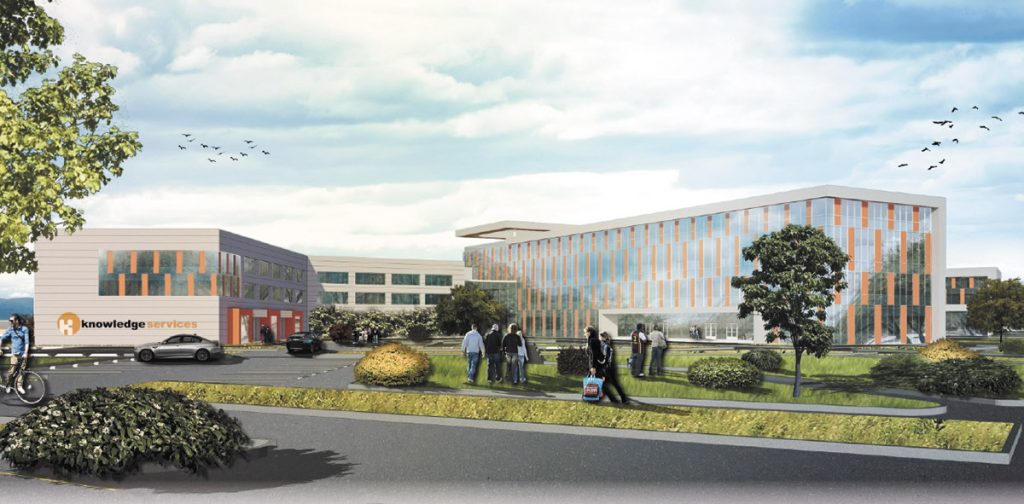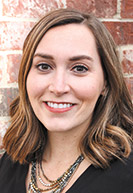 The lion's share of Fishers' high-intensity development over the past five years has taken place where East 116th Street meets Interstate 69, but a mounting wave of projects is coming together just to the south.
Development along a once-sleepy stretch of East 106th Street is waking up, thanks in part to an I-69 interchange announced in 2015 and opened two years later as well as to the Nickel Plate Trail soon to be under construction through Fishers.
"I think that everybody had been playing a game of chicken at first, as far as who is going to kick off investment in that area," said Megan Baumgartner, Fishers' economic development director. "Within the next 18 months, that corridor is going to look significantly different."
Six projects that include housing, office space, a maker-space and possibly retail are now in the pipeline north and south of 106th Street. And those are in addition to a couple of corporate headquarters that opened near the interchange in the past few years.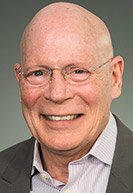 Tim Monger, president of Indianapolis-based Resource Commercial Real Estate, said the Indiana Department of Transportation's construction of the $34 million interchange at 106th Street and I-69 helped "turbo-charge" the area.
"It has been kind of a sleepy development, if you will, because it was all build-to-suit," Monger said. "Now … it has become a much higher profile, and really is more attractive."
Ronda Shrewsbury Weybright, president and owner of RealAmerica Development, which specializes in affordable and senior housing, has long seen 106th Street's potential. The company is working on two residential projects in the area—one along Lantern Road and the other near Ritchey Woods Nature Preserve.
But Weybright's interest in the area started years earlier. She and her husband, Nick, purchased about 16 acres at the northwest corner of 106th Street and I-69 from Star Financial Bank in 2013.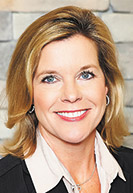 Weybright moved RealAmerica's headquarters from Carmel to the partially developed property later that year (the firm later moved to 10501 Hague Road along 106th Street, after a fire).
Weybright's original purchase "was before Topgolf and a lot of the apartments downtown, back when it was the town of Fishers and not the city of Fishers. I've seen a lot of change."
In November 2015, Ikea announced it would build a store on 116th Street. A few months later, Topgolf did the same.
To prevent a slew of retailers following in their wake, the Fishers City Council put in place "employment node" zoning to guide development along the I-69 corridor.
"We played a very active role in designing and setting the stage for what development looked like down there," Baumgartner said.
The designation, which was eventually extended to 106th Street, encourages multistory office buildings with a minimum footprint of at least 15,000 square feet. Though that size allows for a mix of retail and restaurants, Baumgartner said further big-box retail is prohibited.
Guided by the employment node designation, the projects that initially trickled down from 116th Street were mostly build-to-suit campuses on the east side of I-69. Monger said new buildings started popping up there at a rate of one or two every couple of years.
He said 106th Street's awakening has also been brought on by developments closer to 96th Street.
Stanley Security opened its $16 million headquarters on Kincaid Drive in 2016. In 2017, the Custom Electronic Design and Installation Association—better known as CEDIA—started construction on its $14 million headquarters near the southeast corner of Kincaid Drive and 106th Street.

Gathering steam
Meanwhile, RealAmerica turned its attention to two nearby plots of land for housing projects.
The Indiana Housing and Community Development Authority this year approved $1.2 million in federal low-income housing tax credits for a $14 million RealAmerica project called SouthPointe Village. It's the largest such credit awarded to an individual Hamilton County project in 20 years, Weybright said—and it took RealAmerica three tries.
The company paid nearly $1 million to acquire six homes in the 11100 and 11200 blocks of Lantern Road for the project, which is the second-highest price RealAmerica has ever paid for land for an affordable-housing project.
If RealAmerica gets city approval, it will start construction in the spring on a four-story building with 62 one- and two-bedroom apartments. Weybright said qualifying tenants that earn 30% to 80% of the area median income should be able to move in by summer 2021.
About 20% of those least-expensive units will also be reserved for individuals with disabilities, Weybright said.
So, why spend so much time and money on a property between 116th Street and 106th Street?
"I'm just a huge believer that people of all incomes and all circumstances want the same thing," Weybright said.
She said future residents might work in the office park near 106th Street or in a business along 96th Street, but just like anyone else, they also want to take advantage of those amenities in the Nickel Plate District along 116th Street.
By locating in the middle along the planned Nickel Plate Trail, Weybright said, those residents will have easy access to the best of both worlds.
RealAmerica is already building on that idea.
Ritchey Reserve is a 65-unit, income- and age-restricted senior living facility approved for construction at 7877 E. 106th St. Weybright said tree clearing on the 12-acre undeveloped parcel will start next month and the $12 million project will come online in either summer or early fall of 2021.
Also in process
Indianapolis-based Scannell Properties is working on another residential development, also along Lantern Road.
Carmel-based J.C. Hart, Scannell's construction manager, demolished 13 homes earlier this year to break ground on a $29 million multifamily project.
When Pullman Pointe is complete in 2021, the development will feature two, three-story buildings with 190 one- and two-bedroom apartments. A third building at the southernmost point of the development will house a clubhouse, leasing operations and 2,000 square feet of retail.
Josh Hreha, a development manager with Scannell, said the company chose to build there because it also wanted to create a balanced southern entryway into the Nickel Plate District.
As those residential developments get underway, the Hub & Spoke design center at 8100 W. 106th St. will be nearing completion.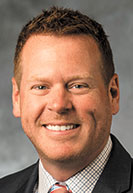 Travis Tucker, president of Fishers-based OnPoint Real Estate Solutions, and David Decker, CEO of ACo, a kitchen, bath and flooring dealer in Carmel, announced plans in 2018 for their 94,000-square-foot development.
They'd considered 116th Street for their project—a combination of retail showrooms, coworking space, offices and the Hub & Spoke Institute makerspace—but Tucker said that area was quickly becoming costly and too densely developed.
They also considered building their vision at the Indianapolis Metropolitan Airport along East 96th Street in Fishers, Tucker said, but there just wasn't enough assurance at the time that the Nickel Plate Trail would make it that far south.
Tucker said he wanted a spot that was visible and flashy, a space designed to overcome the stigma associated with working in the trades. That mission would be lost, he said, if the Hub & Spoke building were tucked away in the back of an industrial park.
Once the 106th Street interchange started taking shape and the first leg of the Nickel Plate Trail was slated to stretch from 106th Street to 126th Street, Tucker was sold.
Now, the nearly $16 million building is underway and scheduled to open in April. Tucker said they've leased more than 80% of the design center, and interest is strong in the remaining 14,000 square feet of showroom and second-floor office space.
Tucker sees his place in the 106th Street corridor's development as just the start, especially as those residential projects in the areas come online. "Activity breeds activity, and we've got a lot of activity breeding in that area," he said.
The road ahead
On the other side of I-69, Castleton-based Knowledge Services recently recommitted to building a $6.7 million headquarters on an 18-acre site south of Navient Corp.'s offices—something it has had planned for some time but has yet to start.
The company plans to build its 80,000-square-foot headquarters on a portion of the land and develop the rest into an office park that could include retail space. But creating a master plan for the entire site has delayed construction.
Knowledge Services has until 2021 to begin construction of its headquarters. The company has also committed to bringing 400 new jobs to the area by 2023.
Weybright's partially developed acreage on the west side of the interstate—one of the last vacant properties immediately adjacent to the interchange—has been listed for sale by Indianapolis-based Bradley Co. for $4.5 million.
The land is zoned as a planned unit development allowing retail, office, hotel or multifamily uses. Jonathan Hardy, a real estate adviser with Bradley Co., said multiple sites within that property are available for sale, lease or build-to-suit projects.
The property had been partially developed by a previous owner with small-footprint building pads, drainage, roads, utility connections and other infrastructure, but Hardy said dividing the land up too much could work against the advantage 106th Street has over 116th.
"We have a value play for people and companies that want to be in that market. You can't really find anything on 116th street if you need two or three acres," Hardy said. "We believe we're uniquely positioned to leverage the good work everybody else has done."
Few—if any—of the developers staking their claim to a portion of 106th Street believe the corridor will ever match the speed or scale of development along 116th.
But, Hardy said, if those developers were able to replicate even a third of that development between Cumberland and Hague roads, everybody involved could count their endeavor a success.
"Right now, people are looking to see what is going to set the tone," Baumgartner said. "Two years from now, it's going to look completely different from what it looks like today."•
Please enable JavaScript to view this content.