Dramatic decreases in sponsorship and ticket revenue this year and the recent resignation of the Circle City Classic's
new executive director have some questioning if the event can survive.
Classic leaders, desperate to return the
event to its halcyon days—when game attendance hit 60,000—are considering a bevy of bold changes, including moving
the date, inviting an Indiana school or one from a power conference to play a historically black college, and including bands
from more area high schools and colleges in the event's trademark parade and battle of the bands.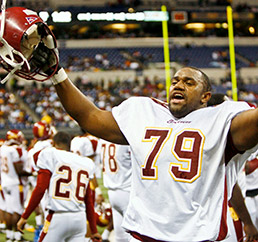 Attendance for this year's
Circle City Classic—a rematch of the 2008 game between Tuskegee and Alabama A&M—was down dramatically. (Photo
Courtesy Circle City Classic)
"We have a clean sheet of paper before us, and we need to be thinking about a
lot of things," said Bill Mays, a member of the Classic's executive committee and president of one of the event's
sponsors, locally based Mays Chemical Co.
Something had better change—and soon, said area marketers.
"There are a lot of red flags with this event right now," said Bruce Bryant, whose local advertising
agency, Promotus Advertising, has worked on the Classic campaign nearly 20 years. "Something needs to get done before
it's too late."
No one is ready to kill the 26-year-old event yet, but a 19-percent drop from last
year in ticket revenue for the game and a nearly 12-percent drop in game sponsorship has alarm bells
ringing.
In addition, the popular Classic parade, which accounts for about 15 percent of
overall revenue, saw its ticket sales drop 15 percent and sponsorship decline 8 percent.
The Circle City Classic's
impact goes far beyond the city's black community. Though spending has fallen, the Classic weekend
still generates direct visitor spending of close to $15 million. In the 1990s, the Classic—which
includes a job fair, cabaret and other events targeted at the black community—poured more than $20 million into the
local economy.
"It shouldn't be forgotten that this event has been a major economic driver,"
said Milt Thompson, president of Grand Slam Cos., a local sports marketing consultancy. "Events of its size don't
come easily and are well worth saving."
The Classic's troubles surfaced
this month when Marc Williams, a high-profile East Coast entertainment marketer, suddenly resigned his
post as director after only four months.
Williams said the event remains viable, but that he's not the
right person to lead it into the future.
Williams' departure and the event's long-term future are
separate issues, said Joe Slash, the Classic's executive coordinator and Indianapolis Urban League
president. But Classic leaders are dealing with both as they sort through a slew of challenges.
Most immediately, Slash said, is settling bills for this year's event and signing deals
with two schools to play next year.
The sagging economy and declining Classic revenue, Slash said, mean
the event, which has a $2.5 million budget, will be close to break-even. In past years, it has funneled hundreds of thousands
of dollars in profits to not-for-profit beneficiaries.
Slash said 80 percent of the event's profits go
to Indiana Black Expo and 20 percent to Indiana Sports Corp. Additionally, the event has raised more than $100,000 a year
for college scholarships, Slash said.
If there are no profits, there will be no funding for those causes, Classic
leaders said.
Reversing falling attendance is key to restoring profitability and resuming contributions. Classic
attendance has been on a downward spiral for the better part of a decade. The move to Lucas Oil Stadium last year temporarily
reversed the trend, but attendance dropped from 47,000 last year to 35,000 this year.
The Circle City Classic
is not alone. Two other marquee classics—the Bayou Classic and Florida Classic—also have struggled to maintain
attendance. A slew of competing weekends that copy what the three marquee events created hasn't helped.
What once brought people to Indianapolis from a 600-mile radius now simply doesn't have the cache, Bryant said.
"This was a novel concept in the early days," he said. But "similar events have popped up in Cincinnati,
St. Louis, Chicago, Cleveland, Dallas, Atlanta and on and on. Those ever-expanding events eroded our attendance."
That has led for a call to change, but those changes cost money. The schools that participate are paid to appear.
One thing black community leaders are calling for is the inclusion of historically black colleges such as Grambling State
University and Tennessee State University, with the best football and band programs.
College programs generally
request an appearance fee to compensate for the loss of revenue from a home game. For a storied program like Grambling's,
that could run $250,000 to $400,000, sports business experts said.
"The best teams know who they are,
and they charge accordingly," said Amos Brown, a manager and talk show host at Radio One Indianapolis. "It's
a challenge, but we've got to find a way to get it done to bring some excitement back to the event."
Slash and other executive committee members said they'd also like to consider adding Indiana, Indiana State or Ball
State universities to the lineup or possibly a school from the powerful Southeast Conference.
There is some urgency
in finding a new executive director to help "freshen up the event," Slash said. "The real challenge,"
he said, "is creating a new, younger fan base, while not alienating the aging fan base we have."
Williams attempted to do so by bringing in such acts as rapper MasterP. It backfired.
"People got confused,"
Bryant said. "Was this weekend about a football game or a video shoot? Change is needed, but if it's not done
carefully, it just makes matters worse."
Classic executive committee members hope to start a national search
for Williams' replacement within 30 days, and have a new director in place within six months.
"We
don't want to get in the position we did last year when we installed [the director] so close to the game," Slash
said.
Officials for the event's primary sponsors—American Family Insurance, Coors, Miller Brewing
Co. and Coca-Cola—said they have no intention of pulling out, but want to know who the new director will be and see
a plan for growth.
Opinions vary on where the director should come from. Williams was from the East Coast, and
his detractors said he never melded with Indiana's Midwest sensibilities.
"I favor someone with a
national perspective, but perhaps with Midwest roots," said Slash, who added that he would consider hiring two people:
one as director and one to handle marketing.
Hiring a Hoosier isn't a necessity, said Tanya Bell, Indiana
Black Expo CEO and a member of the Classic executive committee.
"But the person has to understand how we
do business in Indiana, and they have to be willing to listen and learn," Bell added.
"The community
here respects new ideas and new folks who pay their respects to the current community and show a demonstrated track record,"
Radio One's Brown said.
Finding such a person will be critical in the event's long-term health.
"The Classic needs a proven leader and an expert marketer who can transition this brand into a new era,"
Bryant said. "At this point, I'd say finding a person who can make the right changes is a matter of survival."•
Please enable JavaScript to view this content.