This week, a young adult best-seller is staged. Plus some thoughts on school field trips.
__________

I haven't read "The Giver," Lois Lowry's Newberry Medal-winning novel that has become a staple in middle and high school English classes. I knew its reputation as a kind of preteen "Brave New World," but had no knowledge of the specifics of its utopian/dystopian world.

Ideally, that wouldn't matter. I should still be able to enjoy my theatrical experience with playwright Eric Coble's adaptation of the book, currently on stage at the Indiana Repertory Theatre (where it runs through Nov. 21). After all, I didn't read "Crime and Punishment," but was nonetheless knocked out by the IRT's production last season. And I'll confess to still never having finished "Les Miserables" or even trying "Nicholas Nickleby," but reading them wasn't necessary before enjoying their respective theatrical adaptations.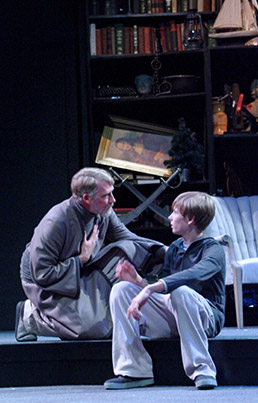 The Giver (Frederick Marshall) passes along the world's history to his successor (Garrett McKenna) in IRT's latest production. (Photo Courtesy Julie Curry)
The job of the playwright—abetted by cast and crew—is to construct an event that feels complete, beginning with the opening moments of the play and closing with a curtain call. That experience certainly can be deepened by further reading—or enhanced by prior exposure to source material or background—but if it doesn't present itself as complete during its brief time in the stage lights, the play comes across as a mere supplement to another experience.

Unfortunately, that's what happens here. I understand how schoolteachers bussing their charges to the IRT might be thrilled with what's being presented as "The Giver." And I get how, for students who read the book, it sure beats sitting in a classroom. IRT vets Jennifer Johansen, Robert K. Johansen and Fred Marshall lend weight to the adult characters, even though the playwright seems to find only one note for each. Also, none of them—thanks to the premise of the show—evolve. The younger side of the cast performs admirably, even with much of the narrative weight on them (a relief after last season's "To Kill a Mockingbird"). And director Richard J. Roberts and his design team consistently find innovative ways to give the play some theatrical juice. Subtle use of color and some swift and clever transitions hint at the play this could have been.

Alas, none of the valiant work by the IRTers can overcome the play's structural flaws and dependence on prior reading of the novel. An interesting world is posited—one in which pain and choice have been removed in favor of security—but potentially dramatic developments are merely hinted at and then dropped. Worse, the truncated, impenetrable-to-those-who-didn't-read-the book ending is guaranteed to leave the previously uninitiated scratching their heads.
__________

I opted to attend "The Giver" at a student matinee and was pleased to see the students completely engaged in what was happening on stage during the hour-and-a-half/no intermission production.

It reminded me that much of my passion for theater was developed on school field trips. Growing up in a town without theater, I weaseled my way onto any field trip I could, sometimes signing up for membership in groups just to be part of their trips. As such, I witnessed the likes of James Earl Jones and Christopher Plummer in "Othello"; the original company of "Sweeney Todd"; an odd, pre-"Cats," off-Broadway musical with actors playing horses; a western-set "Taming of the Shrew" and many more. Many of these Playbills are still in my still-growing stack. Less often but still memorably, some of the school excursions featured trips to art museums and galleries.

Here's hoping attendees at "The Giver" and other student matinees will hang onto the programs and the memories. And that administrators will continue to understand the value of freeing up time and resources for teachers to take advantage of Indy's professional cultural offerings. They can change lives.•

__________

Visit ibj.com/arts for additional reviews, previews and arts discussion. Twitter: IBJarts