A new task force formed this month is charged with recommending solutions to the financial problems of the Indianapolis
Capital Improvement Board and its related convention and tourism issues.
CIB, which manages the city's
professional sports stadiums and the Indiana Convention Center, has struggled much of the past year to close a projected $47
million deficit for 2010. Last month, Mayor Greg Ballard released a public request for information seeking business proposals
to potentially privatize some of CIB's functions.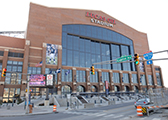 A new committee seeks CIB solutions. (IBJ file photo)
Led
by City-County Councilor Michael McQuillen, a Republican, the new task force will collect data and then issue a report on
CIB's challenges. Once the report is finished, the task force will visit stakeholders throughout central Indiana to
solicit their input and ideas. Finally, the committee will recommend CIB solutions and lobby on their behalf.
The committee includes three other City-County councilors: Republican Ryan Vaughn and Democrats Joanne Sanders and Jackie
Nytes. Ballard's chief of staff, Paul Okeson, is also a member.
"We must solve this problem for our
city," McQuillen said. "Downtown Indianapolis is the economic engine of our state. We must look at every possible
solution to keep that engine running."
Please enable JavaScript to view this content.