Construction has finally begun on a condo conversion of a historic five-story downtown building known as The Shelton.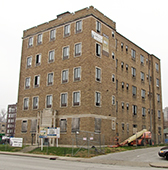 The 1926 building is getting a $3 million makeover. (IBJ Photo/Cory Schouten)
A loan for the roughly $3 million
project fell through last year, but developer Klaus Wittern recently secured financing from Merchants
Bank of Indiana, formerly known as Symphony Bank. Plans for the 1926 building on Delaware Street between St.
Clair and Ninth streets call for 16 condo units with hardwood floors, granite countertops, tiled showers and stainless-steel
appliances.
They will range from $130,000 for 650-square-foot
units to the mid-$200,000s for units larger than 1,000 square feet. The first should be available by
March, and completion is scheduled for May. The building originally contained 50
apartment units and was designed by an apprentice of Frank Lloyd Wright. Keystone
Construction is the general contractor.
Please enable JavaScript to view this content.