Three heavyweight firms are expected to lead responses to Mayor Greg Ballard's proposition to privatize Indianapolis'
stadium and convention center management.
For them, it's a rare bidding prospect. For Indianapolis, it's
a chance to cut costs and increase facility bookings.
Ballard, a Republican, last month solicited ideas to less
expensively manage Lucas Oil Stadium, the Indiana Convention Center and, perhaps, Conseco Fieldhouse. Proposals are due Nov.
24.
The Capital Improvement Board, which oversees all three, has struggled for much of the past year to close
a projected $47 million operating deficit for 2010.
Michael Huber, Ballard's director of enterprise development,
said he's received a "high volume" of calls and e-mails from businesses inquiring about the opportunity.
Some are local with experience in property management and maintenance, he said, or credentials in increasing energy efficiency.
He confirmed other interested firms are national in scale.
Huber hopes a private operator might find "operating
and maintenance savings in the millions." He said it's impossible to handicap yet which company—or perhaps
group of businesses—is best qualified to deliver them.
"Based on the variety of firms, large and small,
who are writing in with questions, I think what we're going to have to do is to sit down with the CIB and the mayor
and say, 'Here's one scenario, here's a second scenario, here's a third,'" Huber said.
"There are different ways to set this up."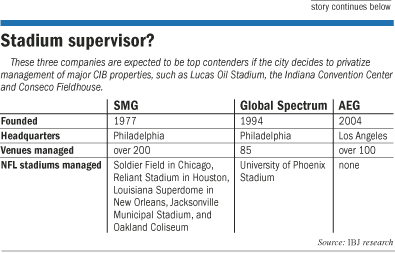 Experts who follow the stadium and convention industry
rattle off the same three national names when asked to identify companies likely to pitch plans for Indianapolis.
Best known is Philadelphia-based SMG, a 22-year-old firm originally known as Spectator Management Group. Its first customer
was the Louisiana Superdome, home of the New Orleans Saints.
The company—acquired by the Maryland private-equity
firm American Capital Ltd. for $631 million two years ago—now lists five NFL teams among its clients, plus more than
200 arenas, performing arts centers, theaters, exhibition halls and convention centers around the world.
Ballard's
solicitation provides a rare chance for SMG to land another NFL stadium, said Don Muret, facilities reporter for Charlotte,
N.C.-based Street & Smith's SportsBusiness Journal. There's turnover in smaller markets, he said,
but the trend has been for teams to manage their own buildings.
In 2006, SMG lost the last NFL deal it competed
for: management of University of Phoenix Stadium, home of the Arizona Cardinals.
"The opportunities at the
big-league level are not as great as at the B and C and D markets," Muret said. "It's been kind of stagnant
at that level."
Beating out SMG for management of the Arizona stadium was Philadelphia-based Global Spectrum.
The company, founded in 1994 by former SMG principals, now is a subsidiary of Philadelphia's Comcast Corp.
The Cardinals are Global Spectrum's only NFL client, but the company runs 85 North American arenas, convention centers
and theaters, such as Wachovia Center, home of the NHL's Philadelphia Flyers and the NBA's Philadelphia 76ers.
The third major player in stadium management is Los Angeles-based AEG, or Anschutz Entertainment Group, a subsidiary
of Denver-based Anschutz Co. The company, founded in 2004 and owned by Colorado billionaire Philip Anschutz, has no NFL clients,
but manages more than 100 venues, including Staples Center, home of the Los Angeles Lakers.
SMG and AEG did not
respond to IBJ's requests for comment. A Global Spectrum spokesman declined to comment, citing a clause in
Ballard's request prohibiting interaction with the media during Indianapolis' review process.
Global
relationships are the main currency any of these three companies can carry to the table in Indianapolis, experts said. With
contacts throughout the entertainment industry and the mass buying power that comes from running many facilities, they can
negotiate bargains when booking talent. They also can increase stadium revenue by attracting new major ticketed events to
Indianapolis, from pop-superstar concerts to monster truck events.
Filling Lucas Oil Stadium more frequently when
the Colts aren't playing is sure to be a big part of each firm's pitch. So are expense reductions. Any of the
three boast mass purchasing power for everything from hot dogs to crowd control to janitorial services, said Robin Ammon,
chairman of the Department of Sports Management at Pennsylvania's Slippery Rock University.
A new stadium
manager would have to sort out existing supplier deals. Stamford, Conn.-based Centerplate, for example, holds Lucas Oil Stadium's
$13 million concessions contract.
A key issue in privatization proposals will be how the management firm wants
to be paid. Ammon expects any contract—likely to last just a few years at first as both sides test the waters—to
be contingent on performance incentives. For example, a private firm might offer to take a quarter of any savings it achieves.
The downside is that its 25 percent would be due regardless of whether CIB is still in the red.
Alternately, a
company might start with a flat management fee, Ammon said, but set thresholds to collect bonuses based on the number of additional
nights Lucas Oil Stadium is used.
The same concepts would apply to the convention center and Conseco Fieldhouse.
But the city would have to win the consent of Pacers Sports & Entertainment, which runs the Fieldhouse, to include that
venue. PS&E has said it no longer can afford to pick up the $15 million a year it costs to operate that building.
Huber said the Pacers have been "great partners" in the information-exploration process for potential privatization
of CIB venues and that the city enjoys a "very free-flowing dialogue about ideas where we could save money in the operation
of Conseco."
"The focus is definitely on the operating savings that we could identify for the convention
center and Lucas Oil Stadium, but we did mention Conseco Fieldhouse in the document, and we have disclosed the Pacers contract
along with others that may apply to Conseco," Huber said.
"Because if an operator or a business has
an idea that could save a lot of money at the convention center, at Lucas Oil Stadium, we don't want to limit them to
just those two facilities."
Whatever progress a private firm achieves won't happen overnight, experts
said.
"It's not a quick fix, by any stretch of the imagination. It's going to be a marathon,
not a sprint," Ammon said. "But it could be hundreds of thousands or millions [of dollars] in savings over time.
The Joker in the deck is the economy."
If Ballard wants direct information about what a major sports stadium
and entertainment venue management firm can do for a city, he needn't look far. For more than a decade, SMG has managed
Evansville's Roberts Municipal Stadium, its convention center, its auditorium, its Victory Theater and its Mesker Amphitheater.
Marilee Fowler, executive director of the Evansville Convention and Visitors Bureau, said SMG has been a good partner
with the city, and she expects the company to pursue management of a $127 million arena under construction downtown. It's
being built to replace the 52-year-old Roberts, whose roof can't accommodate the weight of many modern performers'
lighting and sound equipment.
Thanks to SMG, she said, Evansville is often able to land artists for midweek appearances
as they travel between weekend shows in bigger cities, like Cincinnati, St. Louis, Nashville and Indianapolis.
"The
thing they bring to the table is their connections and ties to entertainment," Fowler said. "They can bring a
variety of performers, and of course that's what the arena is all about. Their connections to the entertainment world
are a real plus to our community."•
Please enable JavaScript to view this content.