This week, a new look at Steve McQueen—by a fellow Hoosier. Plus Indianapolis Opera's "La Boheme."
__________
One of the first grown-up movies I attended on my own was "Papillon." What drove
my 10-year-old self to see this brutal 1973 escape film, I still don't know.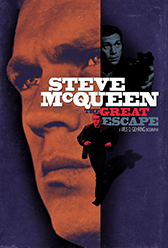 But alone in the dark, with just a scattered group of others in the theater, I sat totally enraptured, caught up
in the plight of this Devil's Island prisoner whose intensity was palpable. He didn't seem
to do much—not on the surface. But the way he stared, the way he thought, and the way he ultimately
acted, made it impossible not to watch him.
The actor was Steve McQueen, and I had no idea that he was iconic,
having yet to experience the pleasures of "The Magnificent Seven" or "The Great Escape."
But that's part of what makes a great screen actor. There's no need to know his or her history.
There's no need for back story. Each performance stands on its own.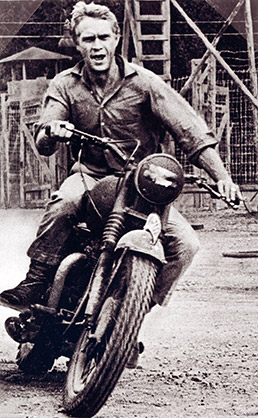 Steve McQueen attempts a getaway in
"The Great Escape." (Photo Courtesy Indiana History Center)
History, though, is why we read biographies.
And while a good biographer can't replace the experience of seeing the original work, he or she
can connect the dots for us, filling in the gaps in our knowledge.
Wes D. Gehring does just that in his new
book "Steve McQueen: The Great Escape" and while there's little sense of anything new
being revealed, the book works as a solid introduction to the troubled, difficult actor and human being.
One
of Gehring's strengths is that he doesn't take enormous leaps in an effort to come up with a new "take"
on a star (Gehring's previous books have looked at Red Skelton, James Dean and others). There's little written
here that seems doubtful or dubious. On the other hand, Gehring has a habit of quoting unrelated material to make points that
occasionally becomes tiresome—i.e. "Had McQueen lived long enough to hear Lennon's 'Double Fantasy'
solo album … the actor would have greatly appreciated … ."
Such devices are unnecessary,
especially considering the life he has to work with here, beginning with McQueen's troubled childhood
(include time in Beech Grove), his stumbling into an acting life, his rise to the top of the box office and his
lifelong rivalry with Paul Newman (a thread Gehring handles particularly well). The author is up-front but not exploitative
about his subject's womanizing and brutality with women. And his appreciation for the actor's on-screen work is
palpable without being fan-ish.
  Perhaps the best endorsement I can give is that Gehring's book inspired
me to pay a visit to "Nevada Smith," "The Reivers," and other McQueen films that
I've missed. And maybe it's time to revisit "Papillon" as well.
__________
Even though Indianapolis Opera's stage-filling production of "La Boheme" (Nov. 20,
22) didn't score many emotional points, it nonetheless proved a treat for the ear and eye. Credit,
in large part, goes to the Indianapolis Chamber Orchestra in the pit and to a believable Maureen O'Flynn
in the role of consumptive seamstress Mimi. Unfortunately, she spent her final scene, in a costume that
made it seem like she's recently returned from visiting her pals in Oz.
Set designer David Gano deserves
credit for wisely keeping the artists' garret décor to a minimum and maximizing the vibrant
street scene (even if it was staged without a parade).
They had help, of course, from Puccini's magical
score. The Indianapolis Children's Choir rounded out a boisterous Act II in which Laura Z. Pedersen
skillfully kept Musetta from waltzing from mercurial to annoying (always a risk in this showy scene).
On the male side, William Joyner and Sean David Anderson gave seemingly flip-of-the-coin interchangeable performances
as Rodolfo and Marcello, although both were in strong voice. The supporting cast was well-chosen, too, contributing to a production
that, while perhaps not memorable, certainly entertained.•
__________
This column appears
weekly. Send information on upcoming arts and entertainment events to lharry@ibj.com.

Please enable JavaScript to view this content.