There's just something cheeky about including even a variation of the word "yum" in a restaurant name.
It doesn't seem to leave much room for error—or humility. It certainly raises expectations.
So I
had high hopes for my first visit to Oh Yumm! Bistro (5615 N. Illiniois St., 251-5656), a cozy neighborhood eatery in the
business district at 56th and Illinois streets.
The lunch menu was promising, if a bit pricy: some interesting
salads—including the tempting Steak and Potato Salad for $13.50—several appetizer-sized tapas dishes and an intriguing
selection of seasonal "Bistro Specials" in addition to the standard sandwich-and-wrap fare. My friend and I kept
it fairly simple.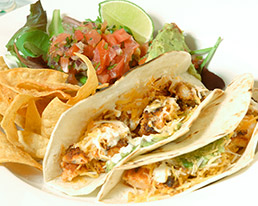 Pescato Tacos are a favorite at Oh Yumm! Bistro. (IBJ Photo/Robin Jerstad)
I opted for the Pescato Tacos
($8.99 and forgiving the Spanish misspelling), a pair of soft flour tortillas filled with mild sauteed fish (basa, for the
foodies out there), shredded colby-jack cheese, guacamole and lime cumin sour cream. Shredded lettuce and pico de gallo are
served on the side, along with a handful of homemade seasoned tortilla chips—think Doritos, only better. The fish was
flavored and fried with obvious expertise, spicy enough to stand out among the condiments and firm enough to be recognizable
when I used my fork to even out the taco innards.
My companion chose the Turkey Panini ($9.50), which featured
the namesake meat, smoked gouda cheese, bacon, pesto aioli and multigrain bread (ciabatta comes standard). It was a well-executed
sandwich, superior to anything you could crank out on a Foreman. The bread, trucked in from a Chicago bakery, was lightly
toasted and delicious.
Sandwiches and wraps come with one side dish, but we ordered two in a fit of indecisiveness.
It's a good thing we did, since the Cheesy Mac 'n' Cheese was bland. The spiral noodles were an
upgrade from standard elbow macaroni and the chunks of red vegetable generated spirited debate—Pepper? Pimiento? Tomato?—but
the cheese's flavor was subtle to a fault. And the bright-orange color made the dish look like the blue-box variety.
The Pomme Frites ($2.25) were more successful. The seasoned, hand-cut fries come with a choice of three sauces (we
went for the ketchup-like "delicimo," since we were already embracing the cheekiness) and are served upright in
a metal cup—all the better to keep from getting soggy. They were good, but not quite on par with the best we've
had.
The downside of the extra side dish: We didn't leave room for dessert. Next time we visit this charming
diner we'll 86 the pasta and look to another carb for our "yum."•
—Andrea Muirragui
Davis
__________
Last in our month-long series of reviews of eateries with exclamation
points in their names.

Please enable JavaScript to view this content.