SMC Corp., which has its U.S. headquarters in Noblesville, is a classic manufacturing business. Its pneumatic valves go into all sorts of assembly-line equipment, from machines that drop engines into cars to those that fold boxes for food processors.

For those who've come to associate the word "manufacturing" with "layoffs," and "plant closing," Chris Abriani has some surprisingly upbeat news.

"We've been slowly increasing our head count," the local plant manager said. "We're going on six months of production increases and sales increases."

About 2010, he said, "I'm very optimistic."

The recession decimated Indiana's auto-parts makers, but many other manufacturers in the state survived. After a year adrift in the recession, they see signs of land ahead.

"There's some guarded optimism," said Mike Becher, managing partner of the Indianapolis office of Deloitte & Touche LLP. "Most people are saying things have stabilized."

Federal stimulus grants and tax credits are playing a role for some, including Allison Transmission and Carrier Corp. Others, including SMC, simply cut back so far that any degree of recovery will lead to hiring.

In fact, Becher said his clients, which include automotive-related and consumer-products companies, actually worry that the recovery will come too quickly, and they and their suppliers won't be able to respond.

"A nice recovery, but a measured increase, would be really what they're hoping for," Becher said.

Manufacturers hesitate to ramp up because they don't know what's going to happen on key issues in Congress, including health insurance reform and carbon emissions, said Pat Kiely, president of the Indiana Manufacturers Association.

"Most businesses are still hunkered down," Kiely said.

He will not deny that the mood is much improved—especially compared with this past spring. However, he said, "The average manufacturer, year-over-year, is still down 30 percent."

Many of his members are also wary of the so-called "W-shaped" recovery, which means they would ramp up only to see business fall off again in 2010.

"They're generally optimistic for six to nine months," Kiely said. "Beyond that, it wanes."

Here are more details on where some of the top manufacturers in Indianapolis stand:


Eli Lilly and Co.

Production head count: 4,500

Main site: 1200 Kentucky Ave.; 1 million square feet of manufacturing space in 10 buildings

What it makes: active pharmaceutical ingredients; finished tablets and bottled products, including insulin

Production-side employment was steady in 2009, but probably won't stay that way for long.

Lilly announced in September that it will cut 5,500 jobs by the end of 2011. Most will be in Indianapolis, where Lilly employs 11,895.

"Manufacturing's going to continue to operate as it has in the past, but we will look at all parts of the company for streamlining opportunities," spokesman Mark Taylor said.

Lilly is restructuring in an effort to get new drugs out of its development pipeline. Its best-sellers, Zyprexa and Cymbalta, lose patent exclusivity in 2011 and 2013, respectively. And the company admits that even successful new drugs won't immediately cover the lost revenue.
Allison Transmission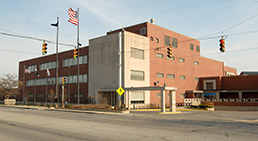 Allison is benefiting from the stimulus and rising demand for truck transmissions. (IBJ Photo/Robin Jerstad)

Production head count: 1,600

Main site: 4700 W. 10th St.; headquarters and three production buildings

What it makes: transmissions for commercial trucks and military vehicles

Aided by a stimulus grant and stronger-than-expected demand from commercial truck owners, Allison is already pulling out of the depths of the recession.

"Our long-term future looks extremely positive," said Tim Snyder, president of the Speedway unit of United Auto Workers Local 933.

In February, Allison made its first layoffs in 25 years. Then credit-rating agencies downgraded its $4 million in corporate debt and raised questions whether the company could make it through the year without refinancing.

Relief came in August, in a $62.8 million U.S. Department of Energy grant to work on hybrid drive trains. According to a UAW newsletter, Allison plans to match that grant for a total investment of $125.6 million.

Snyder said the company is seeing volume pick up on several fronts, including work on a military vehicle. Allison recently made 160 hires in skilled trades and general labor to replace some of the more than 400 UAW members who accepted buyouts last year, he said.

Company spokesman Eric Dickerson did not return a telephone call requesting comment.
Rolls-Royce Corp.

Production head count: 1,736

Main site: 2001 S. Tibbs Ave.

What it makes: gas turbine engines for military aircraft and helicopters

This was an eventful year for the stalwart aircraft-engine maker. Rolls-Royce unveiled new facilities for "on-wing care" and regional customer training. It's investing $30 million to upgrade areas where it's taking back 80,000 hours worth of work from outside suppliers.

In July, the company sealed a deal with RotorWay International to supply its twin-seat helicopter, the Eagle 300T, with the new RR300 engine through 2017. All that work has led to 100 hires since January.

"Our balanced portfolio of defense, commercial and small engines allows us to increase in some areas and decrease in others, while maintaining a consistent level of work," the company said in a prepared statement.

Rolls-Royce supplies engines for some heavily used military aircraft, including the Global Hawk unmanned drone and the Osprey. The military orders have made for a comfortable year, said Dave Atwood, bargaining chairman for UAW Local 933.

But he noted that Rolls-Royce takes stock of its production costs every six months, and may outsource work in the future.

"They're always looking for ways to make us more competitive," Atwood said.
Carrier Corp.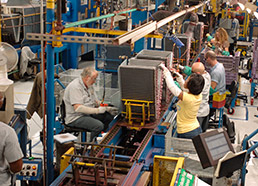 A federal tax credit for 95-percent efficient furnaces has prompted Carrier to call workers back to the world's largest gas-furnace plant. (IBJ Photo/Robin Jerstad)

Production head count: 1,200

Main site: 7310 W. Morris St.

What it makes: residential gas furnaces

The world's largest gas-furnace factory is a long way from its days of trying to keep up with red-hot demand from homebuilders.

Its hope now lies in the higher-margin replacement market, and perhaps a slow recovery in new construction. Boosted by a federal tax credit for 95-percent efficient furnaces, the plant is calling back laid-off steelworkers and cranking up its night shift.

"That's driving a lot of our business right now," said George Gann, president of Unit 7 of United Steelworkers Local 1999. Total employment at the plant was about 2,000 four years ago; it's now down to 1,500.

The company shifted its focus back in 2007, and Plant Manager Jean-Francois Brossoit said the local engineering department enabled the quick turn.

Sales of high-efficiency furnaces benefited last year from a spike in natural gas prices, and this year from the $1,500 tax credit.

"Having that technology ready put us in a very good position," he said. "It was really, really critical to responding to what's left of the market."
Sports Licensed Division of Adidas Group LLC

Production head count: 750

Main site: 8677 Logo Athletic Court

What it makes: licensed apparel for professional and college sports

Most local residents want another Super Bowl win for the Indianapolis Colts, but a surprise from a big-market NFL team, say the Chicago Bears or New York Jets, would be better for Adidas Group in Indianapolis.

The company's east-side facility specializes in filling short orders, and that's what retailers need when an athlete or team suddenly turns popular. Even without dark-horse wins, the local division has more work these days because retailers are loath to place advance orders, Plant Manager Blake Lundberg said.

"That's been the trend in retail. Especially with a difficult economy, it's been a trend even more," Lundberg said.

Adidas Group cut 65 employees locally in January in a company-wide restructuring after retailers suffered one of their worst Decembers in years. Lundberg said the plant has since hired about 150 people and is looking forward to a stronger 2010.

Wins and losses still drive demand, he said, "but we're trying to expand the base of what we do within the licensed apparel business."
SMC Corporation of America

Production head count: 300

Main site: 10100 SMC Blvd., Noblesville

What it makes: pneumatic valves and actuators

Tokyo-based SMC makes motion-control devices for all sorts of machinery, so it's very dependent on overall manufacturing activity.

Plant Manager Chris Abriani said the business hit bottom this spring, and is slowly recovering.

He added that SMC relied on attrition to pare back the production-side workforce.

Food and packaging is driving the recent demand. Abriani said it's not clear, though, whether that's thanks to real growth in the food-processing industry or SMC's increasing market share.

Abriani said he could ramp up more quickly.

"There's always a fear it's going to do a 'W' shape," he said of the economic recovery. "We're timid."•