Marsh Supermarkets Inc. is up for sale again.
Florida-based Sun Capital Partners has completed the turnaround
it launched after buying the home-grown chain three years ago and is ready to get rewarded for the labor.
CEO
Frank Lazaran said there's no definitive strategy for selling Marsh, but acknowledged Sun's plan all along has
been to improve the company's performance and then sell it "when the market is right, financing is right, and
someone is willing to pay a fair multiple."
The company has hired Chicago-based investment adviser William
Blair & Co. to begin soliciting offers for the company in early 2010, IBJ has learned. The asking price is expected
to range between $130 million and $150 million.
Retail observers say the most likely buyer this time around is
a grocery company or companies interested in operating the stores—not another private-equity player looking to wring
"hidden value" out of a troubled company.
That's because Marsh is no longer troubled, at least
financially. When Sun paid $88 million in cash and assumed $237 million in debt to acquire Marsh in September 2006, the chain
was losing money, flirting with default on its debt, and had just dropped to third in Indianapolis market share behind Kroger
and Wal-Mart.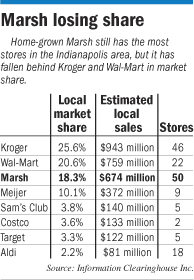 With Sun at the helm, Marsh slashed $70 million in overhead, sold $80 million in real estate, and spun off
non-grocery businesses, including a caterer, florist and a convenience-store chain.
Marsh
used proceeds to pay down debt and plow $60 million into the renovation of 80 percent of its roughly
100 stores.
Three years later, Marsh is lean and profitable, focused solely on the grocery
business. The chain remains third in market share, but its balance sheet looks pristine compared to 2006.
The locally based retailer appears to be one of Sun's successes at a difficult time for
the investment firm. Since 2008, at least 11 Sun portfolio companies have filed for bankruptcy, including the retail
chain Mervyn's, catalog retailer Lillian Vernon and power equipment maker Powermate. It also has written off hundreds
of millions of dollars of investments in GMAC and Chrysler, and laid off dozens of employees.
None of that has
any bearing on Marsh, Lazaran said, and he characterized the challenges as pretty standard for a private-equity firm that
specializes in distressed companies and owns about 100 firms at any given time.
"Sun lets us run our businesses,"
he said. "They don't want to run Marsh for us."
Just a grocer
Under
Sun's ownership, Marsh closed a dozen stores, cut more than 30 percent of a 500-strong headquarters staff, and rebranded
most of more than 30 LoBill locations as Marsh Hometown Markets.
It jettisoned Marsh private-label products in
favor of the more-profitable Food Club, and canceled a pricey advertising deal with the Indiana Pacers in favor of more store-level
control of sponsorship dollars. It cut inventories and sold off all but a few real estate parcels including all the stores
it had owned; the chain now leases the store space.
"This company was in trouble," said Lazaran,
52. "We worked Marsh very hard and I can tell you we're well-positioned going forward."
Marsh's
debt now stands at $60 million, down $177 million since the purchase.
Marsh is a pure-play grocer with a strong
regional brand, a newly remodeled store base and a distribution network with room to accommodate as many as 50 new locations,
Lazaran said.
Marsh is on track to post sales of $1.1 billion this year, Lazaran said, down from the $1.3 billion
in grocery sales the company reported in its last year as a public company.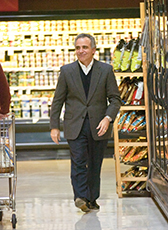 Marsh CEO Frank Lazaran, a veteran grocery executive,
has taken a hands-on approach to his turnaround efforts at the ailing supermarket chain. (IBJ Photo/Robin Jerstad)
The
company in 2006 reported a loss of $57 million on revenue of $1.7 billion, which included the 154-location Village Pantry
chain and other businesses Sun has spun off.
Lazaran said the company is now profitable but he declined to provide
specific numbers.
Potential suitors
A sale to a grocery operator would be a relief
to current and former Marsh employees who privately worry that Sun's cutbacks have cheapened the Marsh brand and alienated
customers.
The chain most likely will be sold piecemeal, and probably is worth about $1 million per store, said
David J. Livingston, a grocery analyst based in Wisconsin.
Marsh hasn't officially listed itself for sale
yet or disclosed financials, but Livingston said he's heard from several potential suitors, most of which are interested
in clusters of stores, not the entire chain. Separate buyers may be interested, for example, in Marsh's Ohio stores
and the Indiana college-town outposts in Bloomington and Lafayette.
Livingston would not name the potential buyers
he's working with, but named a few players with the wherewithal to do a deal: Spartan Stores Inc., a Grand Rapids, Mich.-based
distributor that operates about 100 stores; Kentucky-based Houchens Industries Inc., an employee-owned operation that bought
the Jasper-based Buehler Foods Inc. in 2008; St. Louis-based Schnucks, a chain of 90 stores; and Pittsburgh-based Giant Eagle,
which owns 160 stores.
Larger players that might want a Midwest foothold include Publix Super Markets, an employee-owned
giant based in Lakeland, Fla., or the publicly traded Winn-Dixie Stores Inc., based in Jacksonville, Fla., where Lazaran was
CEO before he took over at Marsh. Winn-Dixie's board fired Lazaran in December 2004 after just 18 months on the job.
Another possibility is Cincinnati-based Kroger, which could add to an already-strong store base and take out a competitor
in the process, Livingston said. Kroger expressed interest in some of Marsh's stores before Sun bought the chain in
2006 and likely would be interested again if Sun is willing to sell individual stores, said Kroger spokesman John Elliott.
A purchase of Marsh by an already established local player like Kroger could lead to more store closings and layoffs,
but not necessarily. When Kroger in 2007 bought its top rival in Fort Wayne, the 18-store Scott's Food and Pharmacy,
it closed only four locations.
Livingston said Marsh's reputation as a chronic underperformer will hurt
its position with potential buyers.
The chain trails both Wal-Mart and Kroger in Indianapolis market share, despite
having more local stores than either one (see graphic).
The discrepancy also shows up in surveys of shoppers.
About 46 percent of Indianapolis-area shoppers reported visiting a Marsh store in the prior week, according to this year's
survey by Coral Springs, Fla.-based Scarborough Research. That's down from 58 percent in 2005. About 64 percent of shoppers
said they visited Wal-Mart, and 56 percent visited Kroger.
"When one grocery chain buys another, they don't
want to have to turn it around," Livingston said. "My concern about Marsh is, they've scaled everything
back, lost a step or two, declined a little bit. I can't see anyone wanting to come in and buying the chain and continuing
things like they are."
Lazaran said the chain has been working to build sustainable market share by updating
its stores and offerings. The company is now on a five- to seven-year remodeling cycle instead of a seven- to 10-year cycle.
Another 10 or so stores will be remodeled in 2010.
"Clearly, we want to drive market share, but we don't
want to go after short-term gains," he said.
Fierce competition
Competition is fierce in the
grocery business everywhere, as discounters like Wal-Mart continue to siphon off customers. But it's particularly challenging
in Indianapolis, a market where smaller players like Aldi, Meijer and Trader Joe's continue to make inroads.
The experience of Supervalu Inc., an Eden Prairie, Minn.-based chain that's as large as Kroger, serves as a cautionary
tale. Supervalu lost millions on a bid to establish Cub Foods in Indiana, opting to close 11 stores in 2001, including seven
in Indianapolis. The chain last year closed its Sunflower Market store in Broad Ripple.
All the competition means
there are fewer potential grocery chains in the financial position for acquisitions, said Danny O'Malia, a former Marsh
executive.
Many regional players already have joined national chains, and others are in bankruptcy. Bi-Lo, a
Mauldin, S.C.-based chain with 215 stores in the Carolinas, Georgia and Tennessee, filed for bankruptcy protection in March.
The Syracuse, N.Y.-based parent company of P&C Foods, a 79-store chain in four states, followed suit in November. And
the 26-store chain Ukrop's Super Markets Inc. of Richmond, Va., is up for sale itself.
"It boils
down to who's big enough, strong enough and wants to come to a market that's been over-stored since Cub Foods
got here," O'Malia said. "They might have a company that's ripe to buy, but is this the right place
to come if I'm, say, Winn-Dixie or Publix?"
If no buyer can be found, Lazaran said, Sun will continue
to operate Marsh, looking at opportunities for expansion through acquisitions.
The company has looked at buying
other grocery chains but hasn't found a good fit yet.
"We're not looking to be stagnant,"
Lazaran said. "We're looking to grow but we have to find the right opportunities."•
Please enable JavaScript to view this content.