Stephanie White-Longworth, CEO of GasAmerica, a Greenfield-based convenience store and gas station chain, will be the first to tell you it doesn't matter that a woman runs the business.

Three generations of Whites headed the company before her—all were men—and they set the tone she follows: Be convenient, competitive, customer-service-oriented and community-minded.

"I was raised in the business and I was raised by the culture that came in here, so that helps guide my decisions every day," she said. "We're not the biggest company out there. But we do pride ourselves on trying to have a quality brand. We sell convenience."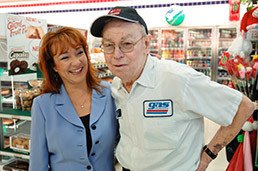 GasAmerica President Stephanie White-Longworth with employee Jay Hensley, who joined the company 40 years ago. (IBJ Photo/Robin Jerstad)
GasAmerica boasts 86 stations—72 in Indiana, and 14 in Ohio. The National Association of Convenience Stores ranks the company third in Indiana among convenience stores, with 7.8 percent of the market, behind only Speedway and Village Pantry. With $601 million in revenue last year, it is the largest woman-owned business in the metro area.
Roots date to 1916

White-Longworth's great-grandfather, Herbert White, founded the business in 1916 in Shirley as the White Flash Petroleum Co. His operation consisted of a fueling station and a truck. He passed it on to his son, Paul Keith White, who had three gas stations and a fuel oil truck, and he bequeathed it to his three sons, Richard, Danny and Phil, in 1964.

Richard, White-Longworth's father, and his brothers changed the name to GasAmerica in 1983 and built the business to 47 stations. As kids, Stephanie and her brother, Keith, would hand out candy at the opening of new locations.

"We've always wanted to work in it and enjoyed it," she said. "It's been part of our family life."

When Richard died in 1998, she became president and Keith took the title of vice president of new construction. Their mother, Judy, is the third owner.

White-Longworth took charge at age 29, when she was the mother of a couple of young children. (She and her husband, Terry, have seven children.)

GasAmerica employs about 1,000 people, 45 or so of whom work in the comfortable but nondescript corporate headquarters along U.S. 40.

In the waiting area, the company's seven core values are posted for everyone to read. They govern everything from making ethical decisions to being a "great employer" to profit-making.

"It's pretty easy to go: 'Is adding this new product going to be convenient or is it going to be a headache? Is it ethical? Is it the right thing to do? Is it com
petitive?'" White-Longworth said.

During her decade-plus at the helm, she has had to look up at that list to confront several realities in the convenience-store business—fast-moving competition from grocery stores, changing customer expectations, the ever-fluctuating price of gas.

Consumer habits changed, she said, when gasoline hit $4 a gallon last year. Customers cut back both on gas purchases, which provide 35 percent of GasAmerica's profits, and on items from its stores. People might have thought expensive gas meant higher profits, but they were wrong.

"We make our money on a cents-per-gallon basis, not on a margin," White-Longworth said. "So when it's $4 a gallon, all we're doing is paying more credit c
ard fees, processing costs and inventory-carrying costs, and people have less money to spend inside our store. We would prefer to make the bulk of our money inside the store, not on gasoline."

Living on loyalty

Loyalty is huge at GasAmerica, where 10-year employees are practically newbies. That's unusual in an industry where the annual turnover rate is 112 percent for clerks and 24 percent for managers. The company employs a number of single mothers and, as White-Longworth points out, "a sales associate who works in our stores doesn't make a gazillion dollars, so they might need help." So each Christmas, GasAmerica selects more than 100 families from among its employees and—using contributions collected from staff throughout the year—makes sure these people get food, clothes and toys for their children.

The company created GasAmerica Charitable Foundation, which gives $250,000 a year to charities such as Riley Hospital for Children, the Muncie Mission, and the Make-a-Wish Foundation for Ohio and Indiana.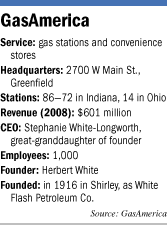 Customers, too, receive rewards based on their spending. In 2002, GasAmerica introduced a loyalty card, offering rewards to faithful patrons. Brent Shay, regional vice president of sales for Eby-Brown, which distributes tobacco, candy, snacks and groceries to GasAmerica, praised White-Longworth for having the vision to create the card when such a program was typically the domain of grocery stores.

Shay has worked with GasAmerica since 1985. He first met White-Longworth after she got out of college in 1992 and started working for the family business as the buyer.

"I've always felt Stephanie has a real passion for the business and is always focused on giving the customer a great value with excellent customer service, just like her father always believed," he said.

Said White-Longworth: "We know you have choices. My Twinkie isn't better than the guy across the street's Twinkie, but I do want to offer a relationship with you to get you to make that right turn instead of that left one into my competitor."

To illustrate that point, she tells this story: In the late 1960s, the company moved into Noblesville, across the street from a Hoosier Pete convenience store. The Whites couldn't understand why, even when their gas was cheaper, customers stayed with the competitor. They investigated and found Jay Hensley, a clerk in that store who seemed to know everyone in town.

They hired Hensley away, and the customers came with him. Forty years later, Hensley, 83, is still with GasAmerica at the station at State Road 37 and Greenfield Avenue, where he works seven days a week.

"They want me to take days off, and I don't do that," he said. "You can't tell the milk cows on Friday, 'I won't see you 'til Monday morning.' They don't like that. So I just got used to working seven days a week. It don't bother me."

Hensley said customers like him because "everybody tells me I've got the best line of [bunk] anybody's found. I don't know if that's the truth or not." And he likes GasAmerica because "they're perfect people to work for."

"If you go along with them, show them that you're willing, honest, trying to make a living, they'll go along with you," Hensley said. "I just love 'em all to death. When I started, Steph wasn't there, Richard wasn't married, Keith wasn't born. I've got more seniority than they've got age."

Taking a breather

After nearly doubling in size since 1998, GasAmerica slowed its growth the past two years to shore up its assets and ride out the tough economy. But plans call for new-store growth of 7 percent to 10 percent annually.

White-Longworth acknowledged that it's tough to survive today when you're competing not only with other convenience stores but also companies like Meijer and Kroger, which have greater economies of scale, especially on food items.

"They have an average ticket size of $100-plus to cover their costs," she said. "Our average size is in the couple-of-dollar range."

To compete, GasAmerica continues to introduce services designed to make customers' lives more convenient—Western Union money transfers, pre-paid phone cards, gift cards, cell phones, cell phone time. They're about to test while-you-wait photo printing.

"It's hard to be a midsize business in today's marketplace," White-Longworth said, acknowledging that GasAmerica occasionally hears from parties interested in buying the company.

"We get calls, yeah. But we're very content," she said. "I have the best job in the whole world. I'm very blessed. And what else would I do? I love this."•