After pouring billions of dollars into Indiana in transportation-related recovery funds, what's another $3.35 million?
After all, who's counting?
This time, it's to fund projects encouraging kids to walk and bike to
school.
About $456,000 of that amount the Indiana Department of Transportation is doling out to schools in central
Indiana. The largest is $250,000 to St. Thomas Aquinas School in Indianapolis for sidewalks, medians, flashers, bike parking,
curb ramps and pedestrian "countdown signals."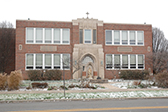 St. Thomas Aquinas School, 4600 N. Illinois, will receive
$250,000 grant to become more bicycle/walking-friendly. (IBJ Photo/Robin Jerstad)
The Project School and St. Joan
of Arc School in Indianapolis are also receiving money.
Five schools within the city of Carmel will receive $75,000
for what's known as a "comprehensive safe route plan."
The federally funded Safe Routes to
School program "aims to influence a new generation of healthy, sustainable travel behavior," says INDOT. It also
ties into federal initiatives aimed at making sure kids don't get too fat.
INDOT said this year's
portion of tax money slated for the biking-walking program is up 20 percent. The state agency received 39 proposals statewide,
totaling $6.8 million.
Please enable JavaScript to view this content.