The restaurant space at 15 E. Maryland St. has come a long ways since its beer-drenched, smoke-filled days as a Buffalo Wild Wings franchise…and burger joint Badaboomz…and Cajun eatery J. Gumbo's.

Now called Ambrosia Centro (635-3096), it's the downtown outpost of a Broad Ripple favorite, serving up standard Italian dishes in a decidedly upscale environment.

Think warm colors, dark wood and solicitous service. And nary a burning ember in evidence outside the cozy dining room fireplace.

Ambrosia Centro's one-page lunch menu is pretty basic: appetizers, salads, panini, pasta and several heartier entrees. We started with the Carpaccio antipasto ($11). I'm not sure what I was expecting but I was pleasantly pleased by the plate covered with delicate slices of subtle prosciutto. The lemon vinaigrette-tossed arugula and shaved parmesan cheese served atop the cured meat provided a perfect flavor combination.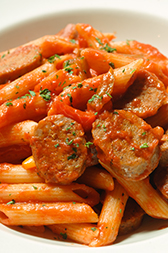 The Penne Rustica at Ambrosia Centro features thick chunks of Italian sausage. (IBJ Photo/Robin Jerstad)
The Penne Rustica ($9) was similarly simple—and successful. The dish marries penne noodles with slices of sweet Italian sausage, assorted bell peppers, onions and tomatoes in a light marinara sauce. We detected a hint of heat, but not enough to overwhelm the otherwise sweet dish. Here, restraint works.

My Pollo Panini ($8) wasn't quite as good, making me wish I'd disregarded the server's advice and gone with my other finalist: the mozzarella, tomato and basil sandwich. Not surprisingly, the Pollo features grilled chicken along with arugula and tomatoes. But there wasn't quite enough of the poultry, leaving me with a few bites of "wish" sandwich—you know, where you have two slices of bread and wish you had some meat. A little too dry for my liking.

The paninis come with thick-cut, parmesan-coated fries, an unadvertised surprise. They were good, but if I'd known the sandwich had a side, I would have asked for a salad instead. Live and learn.

For dessert, we inadvertently broke our must-be-homemade rule, ordering a Peach Sorbetto ($5.50). I'm not sure what made it a sorbetto as opposed to a sorbet, unless it was the sugar-coated frozen peach used as a serving dish, but we enjoyed it nonetheless.•

—Andrea Muirragui Davis

__________

Second in a month-long series of visits to downtown newcomers and reopenings.