A statue of three golfers dressed in period garb greets visitors to the Morgan County side of Heartland Crossing.

The landscaped entrance portrays a life of leisure that's far from reality for many Heartland Crossing homeowners. Short sales and foreclosures in this 2,200-unit development began cropping up several years ago and continue today.

"Every home I've sold in there has been a foreclosure," Century 21 agent Scott Fitzgerald said. "That's hurt the market quite a bit in there."

It's hard to say whether Heartland Crossing has seen a higher rate of foreclosure than other suburban neighborhoods. What's different is its size. The development spans 675 acres in Morgan, Hendricks and Marion counties. With such expansive boundaries, one doesn't have to drive far to find troubled properties.

That raises the question of how Heartland Crossing will fare in the long run. Will it become a tri-county depressed zone? Or will it recover, and blossom into the idyllic master-planned community Cedar Run Ltd. proposed in the mid-1990s?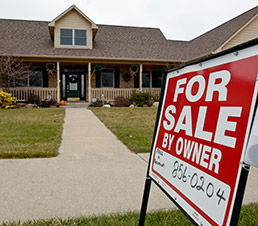 This house in Heartland Crossing is listed for-sale-by-owner. (IBJ Photo/Robin Jerstad)
Cedar Run co-owner Tim Shrout points out that his company completed all of Heartland Crossing's amenities—the golf course, the parks, the pool and walking trails—before the market went bust.

That means potential buyers don't have to worry about whether the developer will deliver on its promises, he said. "People right now—they're only going to move into a place that looks like it's going to survive."

The original plan called for 3,100 residences, including 400 apartments, split between northeastern Morgan County and southwestern Marion County.

A shopping center anchored by Wal-Mart, Menard's and Meijer sits in Hendricks County.

Cedar Run laid the streets for 2,700 units, but never broke ground on a 100-acre tract next to the golf course in Morgan County.

That leaves about 500 units to be finished by two remaining builders. Adams & Marshall Homes is building low-maintenance homes and duplexes on the Morgan County side, and Ryan Homes is finishing Northfield, a tract in Marion County.

Heartland doesn't have the dust-blown look of some unfinished developments, but vacancies are sprinkled throughout its neighborhoods.

In the Mission, for example, the owners of 6421 East Ablington Court left no forwarding address with listing agent Rebecca Ehrsam. The Carpenter real estate agent said she's now working with the bank.

Ehrsam added that the house hasn't suffered any vandalism. It features a brick façade, a garage facing away from the street, and a decorative cupola with a weather vane. The four-bedroom house is listed at $139,900.

The amount is likely tens of thousands less than the former owners paid, though Ehrsam could not disclose how much less.

Even at that low price, Ehrsam complained, "I've only had two offers. I haven't had a showing in two months."

Another four-bedroom house on the same street is listed at $179,997. Ehrsam said such price disparities are common throughout the suburbs, and buyers have come to expect rock-bottom prices, whether the seller is in trouble or not.

Buyer's market

The bargain-shopping mentality isn't sitting well with Mary Cromer, who owns one of the more expensive houses in Heartland Crossing.

She and her husband are asking $359,000 for a 4,000-square-foot brick home that was custom-built 10 years ago.

At 65, Cromer would like to downsize and travel more, but she said it's not worth taking a loss.

"We'll just stay here for quite some time, if we have to," Cromer said. "I'm not giving the house away. It's just too good."

Morgan County Assessor Brenda Brittain doesn't think foreclosures will make a lasting impact on home values in Heartland Crossing.

The bank-owned properties dot neighborhoods, but they haven't overwhelmed entire blocks, she said. "We don't see enough happening so consistently in any one neighborhood in Heartland that that's now the whole market."

Real estate analyst Carolyn Beggs at Local Market Monitor in Cary, N.C., said the Indianapolis market is slightly undervalued. The fourth-quarter average price was $169,436.

That's 3 percent off the first-quarter 2008 peak of $174,977.

Local Market Monitor, which sells data to banks and home builders, calculates an "equilibrium" price based on local economic conditions and market momentum. The firm predicts the average price in Indianapolis will decline another 3 percent in 2010. Beggs said that's driven by high unemployment, rather than the distressed-selling trend.

Beggs said Indianapolis, which is relatively balanced compared with other parts of the country, won't stay undervalued for long.

"It's rare that you see a market below equilibrium for several years in a row," she said.

Transforming effect

Heartland, which Shrout claims is the largest residential development in the state, transformed the northeastern corner of rural Morgan County in the late 1990s and early 2000s.

Net assessed value in Madison Township leaped 230 percent, from $60 million in 2000 to $199 million in 2001.

Fueled partly by Heartland's buildout, the township's net assessed value was more than $381 million in 2009.

Heartland employed the region's major builders—C.P. Morgan, Gunstra, Hansen & Horn, Dura Builders and KB Homes. All of them have gone bust or consolidated.

Cedar Run acquired the land at a bargain price, and that allowed home prices to stay under $250,000.

"That was the sweet spot," he said.

In fact, the majority of homes cost $110,000 to $170,000.

"This was an affordable master-planned community," Shrout said.

Cedar Run saw builders take up lots at a clip of 300 a year from 1998 through 2005, Shrout said. He acknowledged that aggressive lending tactics played a big role.

The rest of the story will sound familiar to anyone following the foreclosure crisis.

Using in-house finance companies, the builders were pushing second mortgages that the homeowners used to buy furniture or pay off other debt, said state Rep. Robert Behning, whose district includes Heartland Crossing.

"They were put into significant debt before they got out of the gate," he said. "At that point, homeowners didn't have their property tax assessment added in."

Behning and local officials noticed the foreclosure trend hit Heartland Crossing at least three years ago. Morgan County Commissioner Norman Voyles said it doesn't appear to have subsided.

"I just know we have a lot of foreclosures and sheriff's sales in that area," he said. "We've got several all over the county for that matter."•