USA Track & Field CEO Doug Logan is facing some high hurdles.

As some of the strongest sports properties in the country struggle in the wake of an awful economy, Logan is planning to double locally based USATF's budget—from $15 million to $30 million—by 2012.

Logan is confident he can find the money necessary to achieve a record medal haul at the 2012 London Olympics. Longer term, his aim is to raise the sport's national profile by adding events and creating a following for the stars of the sport.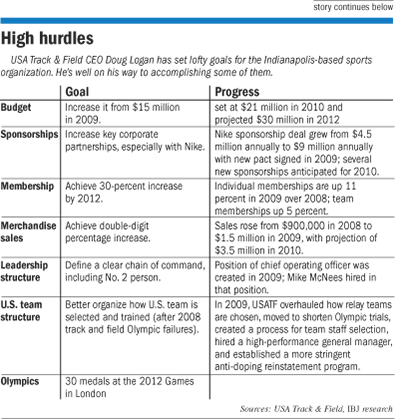 USATF is one of 13 sports governing bodies in Indianapolis. Behind the NCAA and National Federation of State High School Associations, it is the biggest in terms of budget. And among the Olympic sports governing bodies here—which includes USA Gymnastics, USA Diving and U.S. Synchronized Swimming—it is unparalleled in size and stature.

"The USATF is a pillar of the original amateur athletic movement in this city dating back more than 20 years," said Milt Thompson, a local sports marketer and Indiana Sports Corp. board member who was involved in crafting the city's sports strategy.

By all accounts, Logan, who replaced longtime USATF CEO Craig Masback in 2008, is on his way to growing the organization and broadening its impact.

"Because of [USATF's] location here, any growth they experience is just going to bring more attention to this city," Thompson said.

Local sports marketers think Logan's ambitious plans could once again make Indianapolis home to world-class track meets on a regular basis. Logan said he'd like to make that happen—if the IUPUI track and field facility is not demolished as planned by university officials.

"I've talked with the people at IUPUI, and I'm disturbed by what I've heard," Logan said. "This is one of a handful of world-class track and field facilities we have in this country, and I feel with better promotion, events there can be successful."

Out of the blocks

The USATF board this month approved a $21 million budget for 2010, and Logan expects a similar increase for 2011 before reaching his final goal in 2012.

"To increase our budget 40 percent in daunting economic times, we increased our revenue and changed our mind-set from status quo to go, go, go," Logan said.

Masback brought USATF out of the red and increased the budget $9 million in the decade he led USATF. But Logan said the budget has been static for six years and that it needs to grow to improve the Olympic teams and bolster all aspects of the sport in this country, including youth and masters events and programs.

"Even though we're a non-profit organization, growth is as important for us as for any for-profit business," Logan said.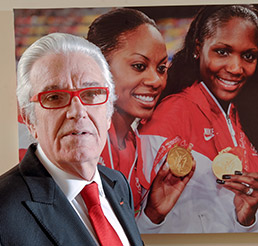 Doug Logan, who took over as CEO of USA Track & Field in 2008, has used a military leadership style to shake things up and grow the Indianapolis-based sanctioning body. (IBJ Photo/Robin Jerstad)
To achieve his goals, Logan signed a new sponsorship deal with Nike—raising that deal's value from $4.5 million to more than $9 million—and has several more sponsorship deals in the works.

Sources close to the sport said Logan would have signed several more sponsorships deals if Chicago had won its bid for the 2016 summer Olympics.

"There's a huge ripple effect from an event like that, especially for a marquee Olympic sport like track and field," said Paul Swangard, managing director of Warsaw Sports Marketing Center at the University of Oregon. "Domestic sponsors really look to align themselves early with an event of that magnitude."

Logan estimates the failed Chicago Olympic bid will cost USATF $10 million in sponsorship over the next seven years.

But there have been more wins than losses during 2009.

Under Logan's leadership, USATF membership increased 11 percent—from 87,000 to 97,000—and merchandise sales rose from $900,000 in 2008 to $1.5 million this year through a beefed up e-commerce Web site and three mobile merchandise sales trucks that travel to events nationwide.

Logan said more members and better marketing will boost USATF merchandise sales to $3.5 million in 2010.

"We're proud of the growth we've achieved in a toxic economic environment," Logan said. "That says something about the value of this business."

The growth, Logan promises, is far from over.

Logan predicts membership will grow to 110,000 in 2010 and to near 120,000 by 2012. Logan, himself a recreational distance runner, credits the growth to outreach from the grass-roots to the elite level.

USATF members are primarily athletes, but also include coaches and meet officials. Sixty percent of USATF's members are younger than 18 and join because the meets they participate in require membership. Logan said he's bolstered their ranks by increasing the number of youth events and extending to members benefits such as discounts on merchandise and event entry fees.

Knocking down bullies

Logan's allies appreciate his military-style, straightforward leadership. Logan, 66, is a Vietnam war vet decorated with two bronze stars.

"You can tell he's a military man, that's for sure," said Greg Harger, head coach and director of the Indiana Invaders track team that counts a handful of Olympic athletes and hopefuls among its ranks. "He's frank and honest and does what he says he's going to do. Operationally, he's very sound, and I've been impressed by what I've seen from him."

Logan has held several high-level event-promotions and sports-marketing jobs in New York and Chicago, but his only experience running a sports operation was as commissioner of Major League Soccer.

Logan, who had no connections in the world of track and field before taking his post with USATF, has talked to and met with people at every level of the sport, and he hasn't been afraid of shaking up the leadership ranks, Harger said.

Logan has grown the sport by changing its very governance structure, Harger said, taking control of matters such as qualifications standards for national meets and composition of Olympic teams, as well as laying the foundation to grow the sport at the grass-roots level.

"He's done what any good leader would do," Harger said. "He took a good look around the playground and identified the bullies. He's taken on a few people who were way out of line as far as the power they wielded."

Some of the people wielding too much power, Harger said, included event promoters, athlete agents, independent coaches and even some USATF board members, all who were acting independently "to protect their own fiefdom."

Logan admits all the changes he's made have rocked the boat.

"There are little pockets of power in this sport invested in doing things the old way," Logan said. "I've shaken the tree a little bit, and I haven't made friends everywhere in this sport."

After the poor performances of the U.S. track and field team in the 2008 Olympics, Logan sought to restructure the way teams are selected and trained. He has given special attention to how relay teams are formed, after dropped batons by U.S. men's and women's teams cost the United States several Olympic medals.

Logan has also sought to outline a more rigid chain of command within the USATF, creating the position of chief operating officer, and hiring Mike McNees, former city manager for Sarasota, Fla., and Blaine County, Idaho, to serve in that role.

Bigger challenges ahead

The most difficult task ahead for Logan may be raising the profile of the sport of track and field and its athletes.

"Doug has a great vision, and is laying a great foundation," said David Morton, principal of Sunrise Sports Marketing, a local sports marketing firm. "But to take this sport to the next level, [USATF] must dramatically increase the visibility of athletes.

"You do that by taking them beyond their sport and crossing them over into mainstream culture and through sponsorship activation. Making the deals to make that happen can be a real challenge."

Logan is undaunted.

He is working with potential television and corporate partners to examine the possibilities of launching high-profile meets and possibly even start a series of meets that would better define a track season and establish standings and rankings for athletes.

"We feel if we handle the fundamental elements of our sport, the basic blocking and tackling, the outreach and public exposure will follow," Logan said. "The key is to build a solid business model for this sport. Otherwise, in non-Olympic years, we're just a series of disjointed one-off meets. And that's not good for anybody."•