At least the worst appears to be over. The economy in 2009 was the most painful in many people's memories—rivaling
the misery of the infamous Rust Belt years more than a generation earlier.
Indiana took a shellacking as businesses
desperate to survive the recession laid off swaths of workers. The economic decline, which started gaining momentum in late
2008, went into steep descent before leveling off in mid- to late summer.
How bad was it? The 131,000 jobs lost
in the 12 months ended in November amounted to a 7.2-percent decline and were nearly equivalent to the combined populations
of Carmel and Fishers.
Automotive, recreational vehicles and other transportation-related sectors—the state's
bread and butter, absorbed massive hits.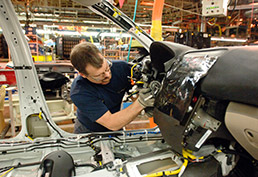 Transportation-related manufacturing jobs absorbed massive hits this year. (IBJ File Photo)
The carnage
ran so deep that the nearly 2.8 million jobs the state has left are the fewest of any time since 1995.
The Indianapolis
area fared better. Employment withered 3.7 percent in the past year, to 873,000.
Part of the loss resulted from
the decision by Illinois-based Navistar International Corp. to close its longtime engine-block plant on the east side, throwing
nearly 1,400 out of work.
The good news, Ball State University economist Michael Hicks said, is that Indiana's
economy will improve in 2010, driven by gains in manufacturing, transportation, construction and information technology.
He said the state economy will show slow but steady growth through all four quarters of next year, but employment
numbers won't return to pre-recession levels until 2011 or 2012.
Hicks said Indianapolis will continue
to be the state's economic engine, attracting top employers and workers from around the country. However, smaller cities
will not see this rapid growth due to an aging labor force and structural changes in key sectors of their economy, Hicks said.
The Ball State analysis calls for manufacturing to expand 1.24 percent in the first quarter, 1.96 percent in the
second, 2.41 percent in the third and then drop to a still respectable 1.76 in the final three months of the year.
Hicks predicted a challenging future for many of the workers who lost manufacturing jobs during the recession.
"We have thousands of older people who spent decades working in moderate- to low-skilled positions in manufacturing
operations around the state. Many of these workers suffer significant skill deficits in today's workplace," he
said.•
Please enable JavaScript to view this content.