The past year has been mighty unkind to the Capital Improvement Board, the entity charged with operating the city's
professional sports venues and Indiana Convention Center.
It began the year projecting a 2010 budget deficit
of $47 million. The major culprits: $15 million in expected Conseco Fieldhouse operating costs next year and additional expenses
involved in operating Lucas Oil Stadium.
A provision that allows the Indiana Pacers to break their lease after
10 years could trigger the additional cost to keep the team in the city. An agreement has yet to be reached, although CIB
officials continue to negotiate with the team.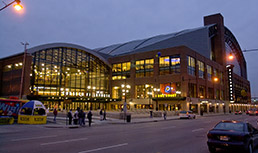 CIB may assume Fieldhouse operating costs from the Pacers. (IBJ File Photo)
Excluding the Pacers dilemma,
CIB made great strides in 2009 to shore up its finances and is on target to turn the deficit into a surplus—additional
money that could be used in negotiations with the team.
The organization has improved its finances by making
$26 million in cuts this year and by avoiding $25.5 million in debt-service reserve payments. It also is poised to collect
roughly $11 million more in annual revenue.
CIB has reduced its operating budget from $78 million at the beginning
of this year to a proposed $63 million in 2010, although the organization anticipates spending as little as $52 million.
Cuts include:
• $4.5 million in budgeted renovations to CIB-operated facilities.
• $3.5 million in grant awards, including $2 million to cultural tourism efforts and $1 million in city arts funding.
• $2.5 million in salary and benefits costs from job cuts and continuing unpaid furloughs. Eleven positions
have been eliminated, and pay cuts range from 5 percent to 15 percent.
• $2.2 million in printing, advertising
and supply costs.
• $1 million in maintenance expenses.
In addition, the General Assembly approved
a 1-percent increase in Marion County's innkeepers' tax, allowing the organization to capture an additional $3.4
million in annual revenue.
Lawmakers also approved expanding the Professional Sports Development Area, which
enables CIB to receive $8 million in sales taxes expected to be generated at the new downtown J.W. Marriott hotel.•
Please enable JavaScript to view this content.