Hoosiers' long ride on the gambling gravy train finally may be coming to an end. Casinos have swelled into a $2.7
billion industry here—one that pays over $800 million in annual state and local taxes and ranks as the state's
third-largest source of revenue.
But in 2009, clear signs emerged that the Hoosier gambling market is oversaturated.
Major credit rating agencies expressed concerns that several casinos, including the state's new horse track "racinos"
on the outskirts of Indianapolis, might go bust before the year was finished. And even if all 13 Indiana casinos remain afloat,
they face the daunting prospect of additional competition across the state's borders.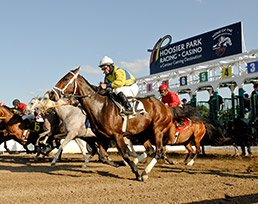 Hoosier Park owner Centaur Inc.
defaulted on its $400 million in debt. (IBJ File Photo)
Those concerns proved prophetic. In October, Indianapolis-based
Centaur Inc., owner of Anderson's Hoosier Park, missed a $13.4 million payment due on more than $400 million in outstanding
debt, putting the company in default with its lenders.
After winning the General Assembly's approval in
2007 to install slot machines at Hoosier Park, Centaur borrowed heavily to pay Indiana's $250 million license fee and
spent another $150 million on mandatory Hoosier Park upgrades.
The Legislature's Interim Gaming Study Committee
spent the summer investigating Centaur's situation, as well as the likely impact of border state market encroachment.
Centaur complained that Indiana's ongoing gambling taxes, not the $250 million license fee, are what's
crippling it. Hoosier Park and its Shelbyville counterpart Indiana Live! must fork over 47 percent of their gambling revenue
to the tax man, compared with the 35-percent rate riverboats pay. Most of the difference goes to subsidize Indiana's
horse racing industry.
The year closed with several state representatives and senators pledging to introduce
gambling legislation allowing riverboats to move onto land, eliminating their requirement to maintain engines and crews, and
reducing racino taxes.•
Please enable JavaScript to view this content.