Even as my A&E calendar fills up for the early months of 2010, it's time to look back and celebrate the year
that was.
As in previous end-of-the-year columns, this isn't a traditional 10-best list, where a writer
pretends to have seen everything. Instead, this is a happily remembered compilation of the 10 offerings that I most enthusiastically
shared with friends and readers.
In no particular order—well, except for the first—they are:
• Indianapolis City Ballet's "Evening with the Stars." Talk about raising the bar—or
the barre, as the case may be. The yet-to-actually-be-a-performing-company ICB didn't just impress with its benefit
performance at the Murat Theatre, it made a thrilling statement that quality—absolute top quality—is a legitimate
aspiration.
ICB's Robert Hesse and company brought to town dancers from the New York City Ballet, the American
Ballet Theatre, Stuttgart Ballet and other troupes for an evening that pointed toward the future of dance while maintaining
enormous respect for the traditional. Act after act left the audience breathless and, as I noted in my review, "The
program was, by turns (and sometimes simultaneously), gorgeous and funny and thrilling and jaw-dropping. It was moving. It
was charming. And I can't recall another time when I felt compelled to give a standing ovation mid-performance."
To put it another way: When Miquel Quinones dancing David Parsons' gravity-defying "Caught" has
stiff competition for the status of highlight of the evening, you know that you are in the rarified air of greatness.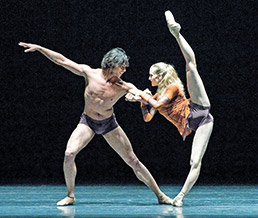 A&E event of the year (for me): The Indianapolis City Ballet's all-star benefit at the Murat Theatre. (Photo
courtesy Indianapolis City Ballet)
• Public Art Indianapolis' "George Rickey: An Evolution."
The downtown exhibition of kinetic sculptures by George Rickey was a jewel in Indy's arts crown—even if it seemed
to draw less attention than previous public art retrospectives. While the site selection wasn't always ideal, the outstanding,
evocative work made the Mile Square streets a lot more interesting this year. I still look for "Breaking Column II"
when I walk past Capitol Commons.
• Indiana Repertory Theatre's "Crime and Punishment."
Director John Green, his creative team (including scenic designer Robert Koharchik), and a trio of well-chosen actors shook
off the weight of "classic" and, instead, worked seamlessly to tell a compelling, character-driven story that
seemed meant for the stage.
• Indianapolis Chamber Orchestra's "The General." The outstanding
moviegoing experience of the year for me was a film more than 80 years old. Thanks to the ICO's live musical accompaniment,
Buster Keaton's already great film was raised to the level of bliss. I can't remember a more spirited and appreciative
audience this season and expect the screening-with-live-music presentation of Harold Lloyd's masterpiece "Safety
Last" this February to be a very hot ticket. I wouldn't miss it for a dozen new Hollywood releases.
• Liz Callaway at the Cabaret. Growing out of the ashes of the former American Cabaret Theatre, the newfangled Cabaret
got on its feet at the Connoisseur Room and has recently relocated to the Columbia Club. It's tough to pick a stand-out
from an impressive slate of first-season performers, both local and national, but it's tough to argue with Liz Callaway,
of Broadway's "Miss Saigon" and "Cats," who exemplified the charm and talent of the intimate
cabaret form at its best.
• The Indianapolis Museum of Art's "Cloud Memory." Airy and
sad, profound and accessible, Judith G. Levy's sculpture caused me to stop and experience it new every time I visited
the IMA. Like the memories it captures in its many tiny viewers, I'll miss it after it leaves Jan. 24.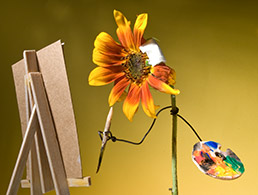 Terry Border's whimsical
dioramas make his book, "Bent Objects," a giddy page-turner. (Photo courtesy Terry Border)
• Terry
Border's "Bent Objects" (Running Press). I didn't read as much as I wanted to this year, so there
may well be some outstanding literary creation out there by a Hoosier author that slipped past my radar. Ah well, at least
I had the pleasure of Terry Border's 'Bent Objects," a book that brought repeated smiles not only to me
but to the family and friends I've recommended it to.
The Greenwood resident doesn't just create
whimsical imagery out of everyday objects. Through lighting and design, his cheese doodles, eggs, Ping-Pong balls and more
burst with personality. I wouldn't be at all surprised if Pixar soon came calling.
• Heartland Film
Festival's "After the Storm." No film this year moved me as much as this documentary about a group of theater
professionals who attempted to help a New Orleans community center stage a teen production of the musical "Once on This
Island." Thanks, HFF, for this, and for "Acholiland," and for "Sergio," and for "Entre
Nos," and for "Welcome" … .
• The Indianapolis Museum of Art's "European
Design Since 1985" The IMA solidified its claim as a major resource for contemporary design with this show, which exploded
out of the galleries with a major symposium drawing talent from around the globe. Even those with little knowledge of art
history had a good time debating the merits of the show's not-quite-everyday objects.
• Indianapolis
Opera and Indianapolis Symphony Orchestra's "Das Rheingold." Two creative organizations are sometimes better
than one, as was established with this first-time-in-Indy presentation of Wagner's classic. Having the ISO on stage
enhanced rather than detracted from the vocal pyrotechnics. And the minimal staging didn't detract from the entertainment
value at all. Here's hoping for more such efforts.•
__________
This column appears weekly.
Send information on upcoming arts and entertainment events to lharry@ibj.com. Twitter: IBJarts.

Please enable JavaScript to view this content.