Steak n Shake Co. spent $545 million from 1999 to 2008 to add dozens of restaurants and buy new equipment for existing
ones. That worked out to $55 million a year in so-called capital expenditures.
In 2009, the locally based burger
chain spent just $5.8 million.
The drastic cut in restaurant investments is the biggest reason Steak n Shake
is profitable again and sitting on $51 million in cash, up from just $7 million at the start of the year.

Biglari
Steak n Shake CEO
Sardar Biglari says the investments by previous executives failed to generate a return for the company's shareholders
despite helping Steak n Shake boost annual revenue from $350 million to $627 million.
Biglari instead has opted
to stockpile cash and scout investment opportunities outside of Steak n Shake. The company agreed in October to acquire steak
chain Western Sizzlin and in December made an unsolicited bid for a Michigan insurance company.
Restaurant experts
and financial advisers say the moves carry heavy risks for the 75-year-old restaurant chain founded in Normal, Ill. They say
Steak n Shake could fall behind its competitors and lose market share as Biglari turns his attention—and the chain's
cash flow—elsewhere.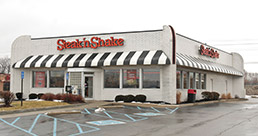 Steak n Shake CEO Sardar Biglari is spending much less than his predecessors on new restaurants and improvements
to existing ones. (IBJ File Photo)
"Without question, it's a strategy to make the numbers look better,"
said Steve Huse, a former Steak n Shake executive who now owns 38 Arby's restaurants in the Midwest and St. Elmo Steak
House downtown. "You can delay capital expenditures, but you can't ignore it for a longer period of time."
Greener pastures
Steak n Shake risks becoming irrelevant as it faces well-funded and
well-managed competitors focused solely on the restaurant business, said George Farra, co-founder and principal of locally
based Woodley Farra Manion Portfolio Management.
"He's kind of running the risk of letting the burger
business wither from a lack of capital—taking his eye off the ball to pursue an insurance company," Farra said.
"I don't see him wanting to be in the restaurant business; he just needed a publicly traded stock to gain access
to the capital markets."
Biglari, who rarely speaks to the media and doesn't hold conference calls
with Wall Street analysts, did not return a phone message from IBJ. But he discussed the strategy in his annual letter
to shareholders.
"Steak n Shake has been resuscitated and now enjoys prodigious cash flows," he wrote
in the letter, which also announced a 1-for-20 reverse stock split that sent the chain's shares above $330 on Dec. 30.
Biglari, a 32-year-old hedge fund manager who took over as CEO in August 2008, went on to say the chain's
next move is to redeploy the cash to the "greenest, most fruitful pastures"—relying on Biglari's investing
instincts, unaided by an investment committee or investment bankers.
"In sum, opportunity will shape our
company," he wrote.
Cash cow
Biglari essentially is milking Steak n Shake
for its cash, said Juelene Beck, a former top executive at Burger King and Dunkin Donuts who now runs a restaurant consulting
operation out of Coral Gables, Fla.
She's seen the move before. When she worked as a vice president of
brand strategy at Burger King, the chain cut its capital expenditures to almost zero during lean years.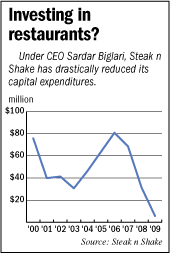 During
the current recession, most restaurant chains have made similar moves. Nashville, Tenn.-based O'Charley's Inc.,
which operates about 360 restaurants, trimmed its 2009 spending to roughly $18 million, from $48 million in 2008. The total
works out to about 2 percent of the chain's total revenue. McDonald's Corp. plans to spend about 1 percent of
its revenue, or about $2.4 billion, on capital expenditures in 2010.
Steak n Shake's investment in 2009
was less than 1 percent of its revenue. The company owns 421 restaurants and has another 73 franchise locations.
Cutting back can work for a few years, but there are long-term risks, Beck said. Just remaining a player in the hyper-competitive
chain restaurant business requires investment. And if, like Steak n Shake, you're looking to expand via franchising,
you have to prove to potential franchisees you plan to invest in the brand.
"Any franchisee that does an
evaluation of this chain would see [Biglari] is buying up other brands and other kinds of businesses," Beck said. "The
question is, do I want to buy into a chain that's going to be milked instead of one that's going to be invested
in?"
Burger battle
Steak n Shake has a long history—a strong asset—but
it also faces a wave of new competitors.
Lorton, Va.-based Five Guys Burgers and Fries is expanding in many of
Steak n Shake's markets, including Indianapolis. And Denver-based Smash Burger—which bills itself as "every
city's favorite burger place"—has launched an aggressive coast-to-coast expansion, including two locations
in Dayton, Ohio.
Meanwhile, more fast-food-oriented chains like McDonald's and Burger King have upgraded
burger options to more directly compete with the likes of Steak n Shake.
"It's become a very hot
segment," Huse said. "It's a hands-on, day-to-day business you really have to run and not let slip. If [Biglari]
has the right leadership in place, I suppose it's OK to run off and pursue other things."
The company
so far under Biglari has made encouraging progress, including snapping a 14-quarter streak of declining same-store sales with
two positive quarters.
Steak n Shake reported a 10-percent jump in same-store sales for the fiscal fourth quarter,
buoyed by aggressive discounting like the 4 Meals Under $4 promotion and easy comparisons to previous quarters.
But analyst Michael W. Gallo of Albany, N.Y.-based CL King & Associates sees the company's shares as fully valued.
"The company has done a good job of stabilizing the Steak n Shake brand over the last year given the difficult
environment, something we continue to think is more than reflected in the valuation," he wrote in a December report.•
Please enable JavaScript to view this content.