Leaders of at least two Indiana public school foundations want to break out of their traditional role of providing classroom extras, and raise enough money to pay for ongoing, district-wide programs.
The Washington Township Schools Foundation on the north side is quietly trying to establish two $500,000 endowments. One would help high school students pay for advanced-placement testing and courses for college credit. The other would support training for coaches, plus other athletic initiatives.
In New Albany-Floyd County, a foundation established in 2004 is closing the funding gap for full-day kindergarten, a coveted program among educators.
In both places, foundation leaders aren't satisfied with making grants that amount to a rounding error in their districts' budgets.

Hacker
"We are going to be needed, and I think we are going to be a player long term," said Ginny Hacker, senior executive director of the $2 million Washington Township foundation.
The Metropolitan School District of Washington Township has 10,600 students and a $118 million budget. Its foundation is becoming more ambitious as the tight state budget has pinched funding for public schools.
Indiana school districts must seek voter approval to exceed the state-imposed property tax cap. Referendums in November in central Indiana districts yielded mixed results. Voters in the Beech Grove and Hamilton Southeastern districts said yes, while Franklin and Perry townships said no.
Washington Township will hold a referendum in May that would allow the district to continue using some capital-projects funds for general operations. District officials say the referendum, like one passed in 2003, would be tax-neutral. If it doesn't pass, Superintendent Jim Mervilde said he'll have to cut $5.3 million from the $60.3 million general fund.
Courting donors
The challenge for school foundations is to convince donors that public schools need more than taxpayer support, said Timothy Seiler, director of The Fund Raising School at IUPUI's Center on Philanthropy. "The perception remains that public funding is all that's needed in public schools."
Most of the nation's public school foundations formed in the 1980s, in the wake of Proposition 13 in California and similar measures elsewhere that limited property tax increases.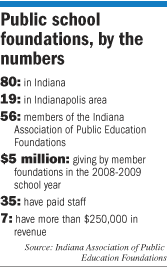 From the beginning, the foundations have pitched themselves as a way to augment, rather than replace, tax revenue, Hacker said.
"I think every dollar that comes across the desk of school foundation executive directors is a show in support of public education," he said.
Most of the 80 school foundations in Indiana have remained small.
Only seven of the 56 that are members of Indiana Association of Public Education Foundations have annual revenue of more than $250,000, Hacker said. About half of them take in less than $35,000 a year.
Professional staff members are rare. Even at the Washington Township foundation, one of the largest in the state, Hacker and another staff member are working part time because of investment losses in 2008.
The Washington Township foundation recently committed to giving the district $250,000 over the next five years to train educators in International Baccalaureate teaching methods. The IB program is already in place at North Central High School, and the district is expanding it to elementary and middle schools.
The foundation is working with an anonymous donor who may make a large gift to the International Baccalaureate effort. That relationship opened board members' eyes to untapped fund-raising potential.
Dave Sternberg, a past president of the school foundation and a professional fund-raising consultant, said board members began to ask, "What if we could give them $1 million or $2 million a year?"
The New Albany-Floyd County Education Foundation has been similarly ambitious, raising $1.4 million since its inception in 2004. The foundation serves an 11,600-student district north of the Ohio River from Louisville.
Sternberg said he was impressed by the New Albany foundation because its first project was raising money for full-day kindergarten. Educators covet the program, but it's costly.
Even after lawmakers in 2007 increased funding more than $70 million, full-day kindergarten is not uniformly available. Some districts, including Washington Township, offer the program but charge tuition.
The New Albany-Floyd foundation has given its district $386,000 since the 2007-2008 school year, making full-day kindergarten available to more than 800 pupils.
Foundation Chairman Tom Lumley sees no reason a school foundation can't pull in big donations.
"We meet every month. We have subcommittees," said Lumley, president of The Travel Authority in Jeffersonville. "I'm a businessman; I run it like a business."
University model
In the early days, school foundations set out to pay for butterfly gardens and guinea pig cages, Hacker said.
Now, Hacker hopes to emulate her counterparts at university foundations, which raise millions for new buildings and scholarships.
Like the universities, Hacker hopes Washington Township can benefit from alumni relationships.
"People have a lot of loyalty to their high school, if they had a good experience," she said.
Hacker acknowledges that public school foundations have a long way to go in establishing the sort of ties that are a tradition for colleges. She's just beginning to work with the North Central alumni association.
Alumni are not necessarily an easy target, Seiler said.
"As they go on to higher levels of education, there are more relationships that are built," he said.
By the time alumni become working adults, their high school is far down the list.
In Washington Township, Hacker said, her first focus will be on alumni who own homes in the district. Not only do they have a personal tie, they may see the economic benefit of reputable public schools, she said.
Lumley is following the same tack. The New Albany-Floyd foundation is helping the district's two high schools set up its first alumni associations.
His main strategy, however, is to be aggressive. Now that the district offers full-day kindergarten, for example, the foundation can ask parents who would have otherwise paid a $2,000 fee to make a $500 donation, he said.
"So there's many angles to work," he said.•
Please enable JavaScript to view this content.