WNDE-AM 1260's recent hiring of well-known on-air personality Mark Patrick has intensified the battle between the
market's top two sports-talk radio stations.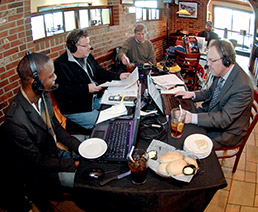 Bob Kravitz, right, producer Michael Grady, front left,
and Eddie White talk sports on WFNI. (IBJ Photo/Robin Jerstad)
Local advertisers and media buyers said they'll
keep a close eye on the first half of 2010 to see how Patrick, who launched his show Jan. 4, matches up against WFNI-AM 1070's
afternoon drive time show, featuring Indianapolis Star sports columnist Bob Kravitz and former Reebok executive Eddie
White.
The 12-week 2010 winter ratings period, which began Jan. 7, will be the first major battleground. Advertisers
will look at those numbers to determine much of their 2010 ad buys, and every dollar counts for radio stations challenged
by the swooning economy.
"In Indianapolis, with the hiring of Mark Patrick, the face-off between WNDE and
[WFNI] has become a full-blown war," said Tim Franklin, director of the National Sports Journalism Center at Indiana
University. "This is a sports-crazy town, and the sports-talk genre has proven to be a pretty lucrative sector. But
it remains to be seen if the market can support two stations at their current levels."
WNDE isn't
the only one changing its roster. On Jan. 4, Kent Sterling, program director for WFNI-AM 1070 and its sister station, WIBC-FM
93.1, was terminated.
"The meeting was a surprise to me," Sterling said. "And it's a
little hazy, but there was something mentioned about philosophical differences."
Sterling said he was stunned
because WFNI ratings were trending up and revenue in 2009 was up 20 percent over 2008. But Charlie Morgan was hired in September
as the local market manager for Indianapolis-based Emmis Communications Corp., the parent company of WFNI and WIBC, and industry
sources said he wants to put his own team in place.
"I was the coach under the previous regime,"
Sterling said, "and I understand that."
Morgan could not be reached for comment about Sterling's
termination.
There are actually three sports-talk stations in central Indiana, including WXLW-AM 950. But since
WFNI swiped the ESPN Radio affiliation from WXLW two years ago, 950 has lagged in third, leaving WNDE, a Fox Sports affiliate,
and WFNI to slug it out for supremacy.
WFNI has risen through the ratings and surpassed WNDE in afternoon drive
time last summer, according to New York-based Arbitron Inc. The station's morning and afternoon drive time shows both
attract between 4,500 and 5,300 listeners, based on Arbitron's computations of average quarter-hour listenership. WNDE,
during the same time periods, is generally between 3,500 and 4,100.
The economy has
hurt both stations, media buyers said, but WFNI still brought in $1.5 million in sales in 2008, according
to BIA Financial Network, a Virginia-based financial and strategic consultancy for the radio and television
industries.
The sports-talk stations' annual revenue is a long way behind local market
leaders such as WFBQ, which brings in more than $12 million. But observers said both stations are showing
solid returns for their niche.
Results from the new ratings period will likely determine
which of them is able to build on that success.
"We think with the upcoming Colts
run in the playoffs and the NCAA basketball tournament approaching, the next few weeks are going to be really critical,"
said Rick Green, local market manager for Clear Channel Radio, which owns WNDE, along with WFBQ-FM 94.7 and WRZX-FM 103.3.
Green isn't the only one thinking that way.
"Anyone who buys time during sports programming,
anyone with a largely male audience, will be watching very closely," said Sue Doron, media director for Echo Point,
the media buying arm of locally based ad firm Young & Laramore. "A lot of people—ad buyers, advertisers and
sports fans—are very excited about the Mark Patrick hire. He has a built-in audience. So for a lot of people, how he
does against Kravitz and Eddie bears watching."
'Best talent available'
Patrick replaces John Vincent, who used the on-air handle JMV, a nickname that ironically was coined by
Patrick.
Vincent worked for Patrick when Patrick was making a name for himself on sports-talk radio in the 1990s
for WNDE. Patrick left the station nine years ago to focus on other jobs, including doing sports news on television and hosting
the "Hoosier Millionaire" TV show and a national sports talk show on satellite radio.
Vincent quit
suddenly in late November for personal reasons, and Patrick approached WNDE officials about returning.
Clear
Channel's Green said there was a lot of interest in the job opening, but in the end, Patrick was the clear choice.
"We had some great candidates, but Mark was the best talent available," he said. "His knowledge
of all sports and especially local sports is unparalleled. He's a very good fit for this market."
While Patrick may have a built-in audience, he also comes with baggage, said longtime local media buyer Bill Perkins.
"A personality like his is always going to be polarizing," said Perkins, president of Perkins Nichols Media.
"Listeners tend to either love him or hate him. I expect the battle between [him] and the WFNI duo to be pretty intense
with a lot of sampling back and forth between stations in the early months of Patrick's return."
His fan appeal wasn't Patrick's only drawing card, Green said.
"Mark has some close relationships
in the business community, and some of those have expressed interest in advertising or partnering with us," Green said.
WNDE has rebranded its afternoon show from The Drive to Mark Patrick on Sports, the moniker used during Patrick's
previous tenure.
In the weeks to come, WNDE will unleash an aggressive marketing campaign to trumpet Patrick's
return. That effort will include guest appearances on WFBQ's "Bob and Tom Show," the highest-rated show
in this market. During the 1990s, Patrick was a frequent guest on the show, and played the part of several popular skit characters.
"Mark Patrick has an unusual set of talents, and I know a lot of people are interested to see if he'll
re-create some of the characters he did before on [WFBQ]," Doron said. "I think that could be a key cross-promotional
tool to making his show on WNDE work even better."
Comedy vs. sports
WFNI, also known as The Fan, isn't about to roll over for WNDE. Station officials said they won't
directly counter the hiring of Patrick and the subsequent marketing, but they will continue to be aggressive.
Since launching The Fan in early 2008, Emmis has invested heavily in the station.
Morgan, Emmis' local
market manager, thinks there will be substantial differences between Patrick and WFNI's duo.
"Mark
Patrick focuses more on entertainment value and less on sports content," Morgan said. "Kravitz and Eddie rely
more on hot sports news and less on character impersonations and comedy shticks."
Besides having ESPN in
its corner, WFNI is at an advantage because it carries Indianapolis Colts, Indiana Pacers and Indiana University sports programming.
WNDE counters with Purdue University and NCAA broadcasts.
"It's a great time to be in sports radio
in this market, that's for sure," Morgan said. "Events like the 2012 Super Bowl and the men's and
women's Final Four coming here on a regular rotation, the Colts' run, along with the other sports staples we have
here are moving sports from a niche market to the mainstream. And that allows us to move product to a much broader audience."
As the prize grows bigger, media buyers expect the battle for top-dog status to become even more intense.•
Please enable JavaScript to view this content.