This week, a Bob Dylan celebration at the Athenaeum and tell-all tales at Theatre on the Square.
__________
It's easy, when you talk of Bob Dylan, to get caught up in the lyrics—the wistful curlicues of "and
but for the sky there are no fences facing," the sledgehammer bluntness of "And I hope that you die/And your death'll
come soon," the melancholy of "You're gonna make me lonesome when you go," and on and on.
But at the Hoosier Dylan concert offered at the Athenaeum for 4-1/2 joyful hours on Jan. 8, the music was equally important.
And the music was in very good hands.
From the raucous, Gordon Bonham-led "Maggie's Farm"
jam to the raw ache of "Rock Me, Mama" (courtesy of the White Lightning Boys), it was an evening of musical highlights.
To be sure, this was not a program of Dylan's most-familiar hits. Remarkably—and refreshingly—"Mr.
Tambourine Man" and "Blowin' in the Wind" were ignored. Neither was it entirely focused on obscure
pieces. Throughout, it felt like the selections were made based on what the performers truly wanted to play. Pleasure came
from both hearing the music and being utterly clueless about what was going to come next.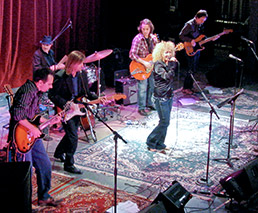 Some of Indiana's top musicians,
including the Gordon Bonham Band, left; Jennie DeVoe, center stage; and Jason Wilber, right, took on the challenge of the
iconic songwriter's works at "Hoosier Dylan." (Photo/Amy Lee)
Folkie Bobbie Lancaster, often found
performing family concerts, was very much at home with "Man Gave Names to All the Animals," and event organizer
Tim Grimm offered a soulful, resonant "You Gotta Serve Somebody" (both from Dylan's much-maligned, born-again
album, "Slow Train Coming"). The two together gave us a heartbreaking "Boots of Spanish Leather."
Jason Wilber had fun with "Tangled Up in Blue." Jennie DeVoe gave her own spin to "Forever Young"
and all wandered in and out of one another's sets, providing harmonies, adding instrumental solos, or shaking tambourines.
For an evening, I had a sense of what it would be like to sit in on one of Levon Helm's famed Midnight Rambles in Woodstock,
N.Y. The headliners were supported by a top-notch lineup of players who each had their moments to shine. And they did.
The only downside was Indiana's poet laureate Norbert Krapf. I understand and appreciate the inclusion of
poetry in the mix—Dylan himself made room for Lawrence Ferlinghetti on the Rolling Thunder Revue, which is the clear
source of inspiration for Hoosier Dylan. However, the pushing-too-hard Krapf came across less of a poet with vision and more
of a randomly drawn contest winner. Two of his Dylan-inspired pieces were only rendered tolerable by expert musical accompaniment—thank
goodness Grimm followed Krapf's southern Indiana adaptation of "The Girl from the North Country" with a
beautiful version of the actual song. A poetic introduction to Jennie DeVoe sounded like the ramblings of a smitten teen-ager.
Actual teen-agers fared much better. What could have been an awkward act of nepotism turned into an exciting
second-act spark when Grimm's son, Connor, and his Columbus East High School buddies, under the name Joyous Garde, took
the stage for a set that included "The House of the Rising Sun" (which Dylan covered on his first album). And
when Wilber and company joined in, spirits flew.
Hoosier Dylan visits Shelbyville Feb. 12 and Danville Feb. 13.
And Grimm has a Hoosier Hank and Johnny in the works as well. For more information, keep an eye on www.timgrimm.com.
__________
Less a play than a two-hour conversation-starter, "My First Time" is having its
local premiere at Theatre on the Square (through Jan. 30). Based on a Web site, the show begins in the lobby, as each audience
member is given a questionnaire about his or her initial sexual relationship.
The answers are gently incorporated
into the show, which otherwise features allegedly true accounts of deflowerment as posted anonymously on the site. Some of
these feel blatantly like made-up letters to Penthouse. Others are painfully detailed and feel true. Some are presented
whole, others in fragments.
Given the real-folks nature of the submissions, it's no surprise that some
stories could have used more details while others felt awkwardly too-detailed. Still, the subject matter is difficult to miss
with, provided you are comfortable with it and the expected language (and sounds). The company of four—abetted by some
clever use of a video screen for stats, facts and quotes—ably keep things moving until the, er, climax.
Oh, but to hear some of the audience member conversations on the trip home. •
__________
This
column appears weekly. Send information on upcoming A&E events to lharry@ibj.com. Twitter: IBJarts.

Please enable JavaScript to view this content.